GPS Fish Finders
It's one of the oldest frustrations in fishing. Fishing one part of a stream, lake, or ocean with nothing on the end of the line. Just a little further away, another angler is reeling them in nonstop. If only there was a way to know where the fish are at all times. Fish finders save you time and make the day's catch (and dinner) more enjoyable.
Modern technology's fish finders and GPS fish finders are small, compact, inexpensive tools that can help even the most adept fisherman become better.
Most of us are old enough to remember when anglers using depth finders, range finders, and fishing finders were considered cheating. But not anymore.
Using modern technology to improve a catch is simply smart fishing. Nobody complains when GPS gets them through traffic, so what's the problem with a fish finder?
Nothing, that's what. Good fish finders are common pieces of equipment these days. Heck, it would be like mocking a ship's captain using a boat depth finder to ensure he doesn't run aground.
Best Fish Finder and GPS Fish Finders
Like any technology, some products are better than others. When it comes to the best fish finders, always consider the place and use of the product. The first question to answer is if the finder will be boat mounted or portable.
Both have advantages and disadvantages–like battery power, portability, and ease of use. Make sure the type required is correct before looking at companies and designs. That being said, there are a few out there worth considering–no matter the use and budget.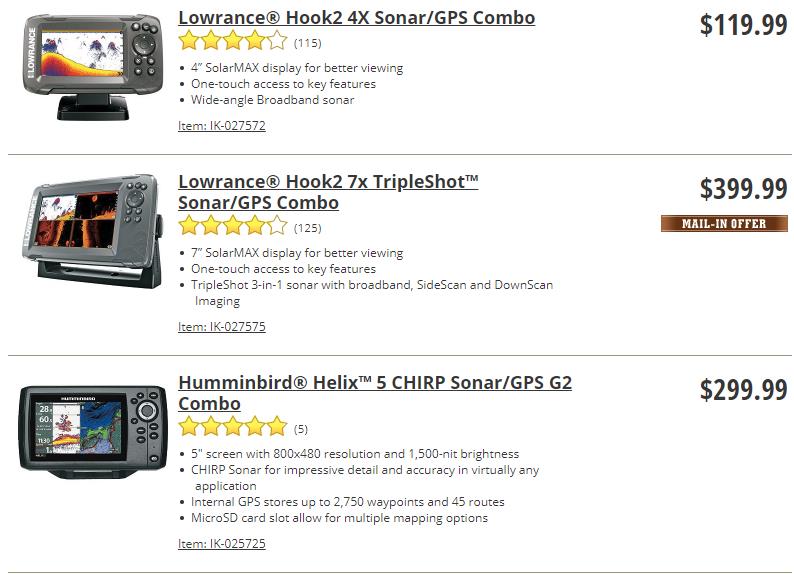 Hummingbird
The Humminbird HELIX 7 CHIRP SI GPS G2 Fishfinder and Chartplotter is a marvel of compact fishing advantage. From its easy to read 7-inch screen to the accuracy in depths of 350 feet, this little wonder is even compatible and upgradable with other Hummingbird products.
Like previous GPS systems, downloadable maps and updates keep the Hummingbird GPS fish finder working well year-round.
Garmin
When it comes to GPS, Garmin is a name that leaps to mind. So it's no wonder they have reliable and inexpensive devices in this arena.
The Garmin Striker 4 Sonar Fishfinder and GPS Plotter, while slightly harder to read with a 4-inch screen, is a steal at nearly one fifth the price of the Hummingbird. In addition, anglers can mark favorite spots, docks, and ramps for an easy day on the water.
The Garmin STRIKER Plus 4cv GPS Fish Finder is a step up in clear imaging, readability, and comes equipped with plot mapping and real-time contouring. At under $200, it's a real steal.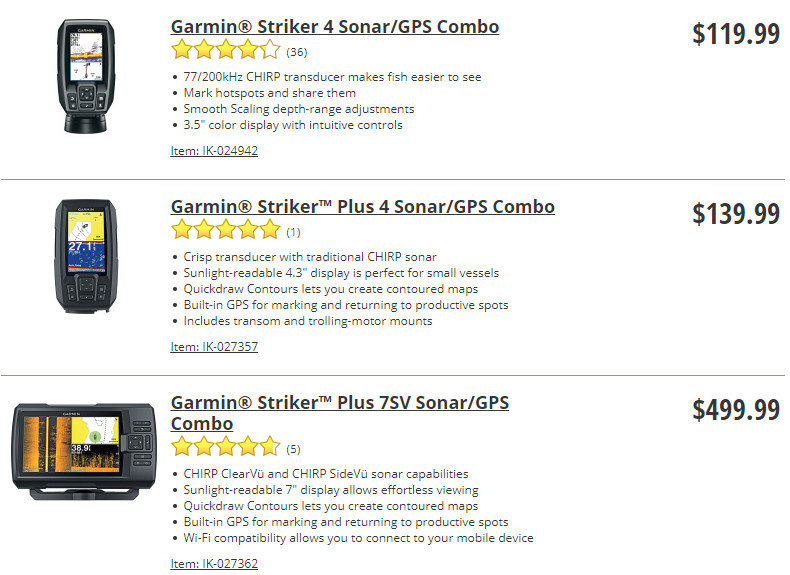 Lowrance
One of the more reliable and well-known names when it comes to electronic fish finders is Lowrance.
Whether it's the inexpensive Lowrance HOOK2-5x Splitshot HDI GPS Fish Finder or the top of the line Lowrance HDS-12 Carbon Insight Sonar/GPS Combo, this company's products are worth a look.
At under $100, the Hook2 series offers casual, weekend anglers both freshwater and saltwater capabilities, portability for kayaks or other small boat use, pre-loaded maps and easy upgrades.
One step up is the Lowrance Elite-7 Ti GPS Fish Finder with Mid/High/DownScan. Equipped with more than 1,000 pre-loaded lake maps and the ability to wirelessly notify fishers through a smartphone app. This is a great option for the serious angler who doesn't want to break the bank.
However, for the serious tournament or professional angler, the HDS series is top of the line.
The Lowrance HDS-9 Carbon Insight USA Sonar/GPS Combo blends a suite of navigation tools with new fish-finding technology such as deep structure scanning shown in 3D on the 9-inch color screen.
Upgrade to the HDS 12 at a mere $3,000, and receive real-time chart plotting with a 12-inch full color display, automatic routing support and precision imaging down to half-foot contours.
Castable and Trackable
The Newest Wave of Fishing Technology
The ANGLR Fishing Trip Tracker is a wearable, waterproof, tracker that syncs to a smartphone app and records everything an angler needs to reproduce great fishing days and avoid repeats of  bad ones.
The device attaches to a rod and wirelessly pairs with a smart phone to track fishing activity. It keeps count of casts and catches, records casting direction, and marks the locations of landed fish. In addition, it marks location and lets anglers review past trips.
For anglers who are fishing from shore but want to ensure there are fish nearby, look no further than the Deeper Start Smart Castable Fish Finder.
As the name suggests, this fish finder can be attached to a line and cast into the water, where a Bluetooth signal will send depth, water, and fish information directly to a compatible smartphone.
Just make sure the line is securely attached, as it could be all too easy to cast a hundred dollars into the water only to see the line snap and your investment float away.
Fish Finders for Sale; Fish Finders for Free!
Those who frequent Rusty Angler know how much we love to find free fishing gear! We offer fishing giveaways so you have a chance to enter and land some free swag. Fishing sweeps are a great way to enter competitions for extra gear.
One of the best areas to investigate is the world of fishing promos and sweeps. Companies have fishing promotions all the time, specifically to attract new buyers or highlight new products. New technology is always showing up, and these are great ways to get some top tech for free or save a lot of dough.
Often, companies will offer free gear by having the angler use a fishing promo code when ordering new equipment. Why is that important? Well, that means you get gear at either greatly reduced prices or even free.
So don't be afraid of the new technology. Embrace it. If anything, the fish should be afraid. They should be very afraid.