Fishing Tackle Boxes – Tackling your tackle
If you're like most anglers, you have fishing tackle boxes for a variety of water types, fish, and conditions. Bass require much different lines and lures than salmon. Crappie lures aren't the same as trout lures, and so on. Know your bait and get the right gear and tackle boxes for the species of fish you want to bring home. That doesn't even include the variety of lines and gear for saltwater.
Sure, you could hold all that in separate plastic grocery bags, but at some point it might be a good idea to empty out that old suitcase and invest in a good set of fishing tackle boxes. But with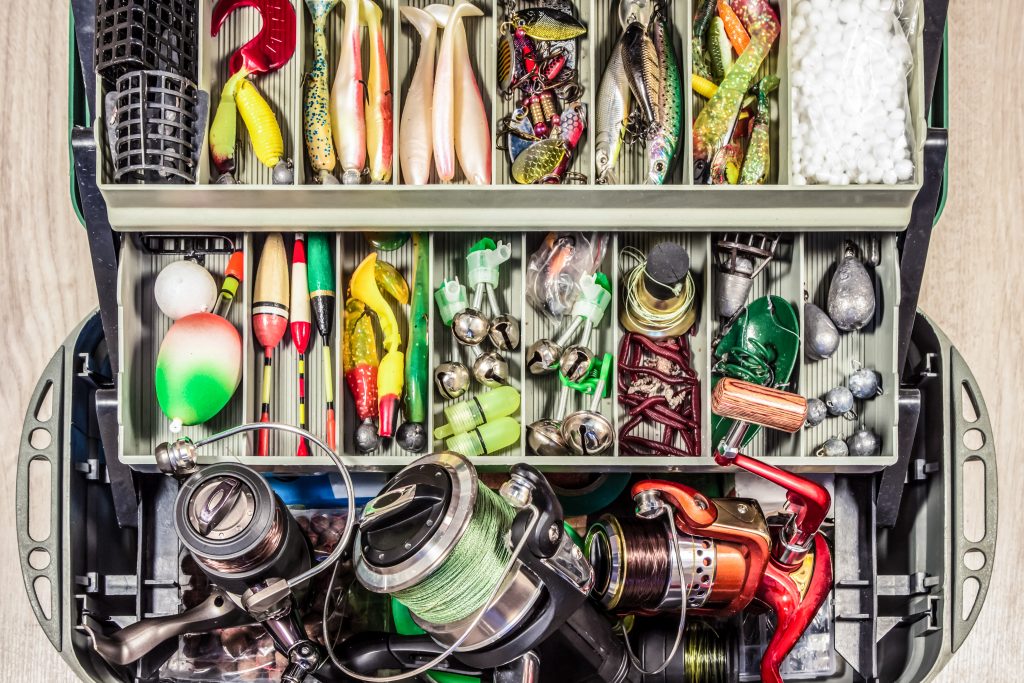 fishing boxes ranging from a small, $10 box to multiple-drawer, saltwater tackle boxes costing hundreds, how do you decide?
If you've read my articles here in the Rusty Angler before, you already know that I believe in spending less to get more. Still, I'm a firm believer in getting the right tool for the right job, just like you need the right lure for the right fish.
A good tackle box is no different. Sure, you can get that small plastic box with a few dividers that will last half a season and fall apart on the boat. Or, you can read this article, match up your needs, and then find the right box, or boxes, at the right price.
Plain Old, Plano Tackle Boxes
As in any area of manufacturing, there are a few brands that are recognized among experts as some of the best in the industry. When you are discussing fishing, Plano tackle boxes need to be on that list.
The inventor of the plastic-molded tackle box, Plano tackle boxes have been around since 1952. Known for their variety, design features, and sturdiness, these boxes are made to be filled and used.
Plano boxes range in style and price from lunchbox-style $20 boxes perfect for kids, to $200 professional boxes for guides. They even make angled boxes designed to sit in the bow of a kayak. The first step is knowing what every kit should have, then deciding what else your kit needs.
Let's face it, unless you have really fast hands, you just can't fish without gear. Just as you need ways to organize tools or sport gear, a practical tackle system will have everything you need.
This means you should have emergency items as well, such as a flashlight, pliers, and your maps and fish charts. The right system will also be organized. It's no good fumbling around, stabbing your fingers with hooks. A good fishing tackle box will help you find exactly which lure you need at the time you need it.
A good box will also transport comfortably from basement to car to boat, and back. It will withstand bumps and drops, and it will keep its precious cargo protected and dry. While you want to be a rusty old salt of an angler, you don't want your gear to be rusted with salt.
Best Tackle Boxes – Wet and Wild
With such a large array of choices, the first question is do you need waterproof tackle boxes, or should you use a box that allows water to flow through it? The answer to that is a simple, yes.
Long gone are the days of our youth when every tackle box was a one-piece, hard-sided, lunchbox with a single latch and trays that flung lures and weights and hooks around while you walked. Today's tackle boxes are more sophisticated and can be used in a variety of settings.
Both Plano and Flambeau tackle boxes offer soft and hard-sided boxes that have interchangeable trays and covers. This means you can have waterproof shelves to keep your gear from getting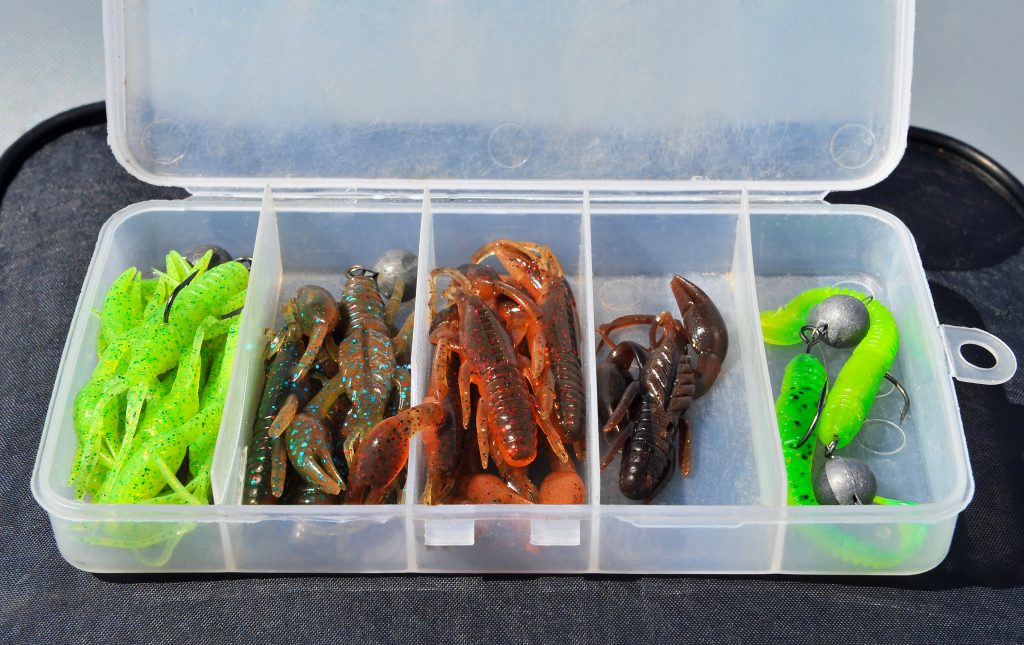 rusty, while you can also have open trays for wet bait or to let rigs dry.
To understand the importance of this, you need to know how rust (oxidation) works. When oxygen interacts with many metals, the oxygen sticks to the metal and causes rust to form. Since water is made up of hydrogen and oxygen, water is a prime source of rust.
What this means for the angler is, dry needs to stay dry and wet needs to dry out. Enter the multi-tray box. This way a lure box can stay dry, while a fishing box can have holes for water to flow through and can be used to dry out wet gear.
Hard, Salty, and Soft – Not all boxes are the same
Salt water destroys everything. Period. So when saltwater fishing, it is important to have saltwater tackle boxes that can stand up to the elements.  Look for thick materials with as much plastic, nylon, and Velcro as possible. Remember, anything metal is likely to rust out.
Make sure your saltwater tackle boxes close firmly and seal completely. You need compartments that can open separately to keep salt spray out, and you probably need a larger box, as saltwater fishing tends to require larger, and more, gear.
With saltwater, as well as some freshwater fishing, boat tackle boxes are a must. Sure they can get expensive. I mean, really expensive. Still, having all your gear readily accessible, on the boat at all times, and secured can be priceless.
Hit one heavy wave and have your full box fall overboard, and you'll be wishing you'd invested in a boat tackle storage. With the wide variety of designs, installation options, and secure locking, a boat box is one of the best investments a serious angler can make.
Finally, soft tackle boxes are a modern and versatile option that is rapidly becoming popular for fishers of all sorts. Soft bags are lightweight and have padded straps that make carrying them a breaze.
Most have extra pockets and compartments that flex and stretch to stuff in that last item. Often there are numerous removable trays, making the options for gear endlessly flexible. In addition, many bags include removable Velcro dividers so you can customize the shape and size of inner compartments.
If you go with a soft bag fishing tackle boxes, the main thing to remember is that the fabric may be water resistant, but is not water proof. That means you need the right trays inside and you need to make sure the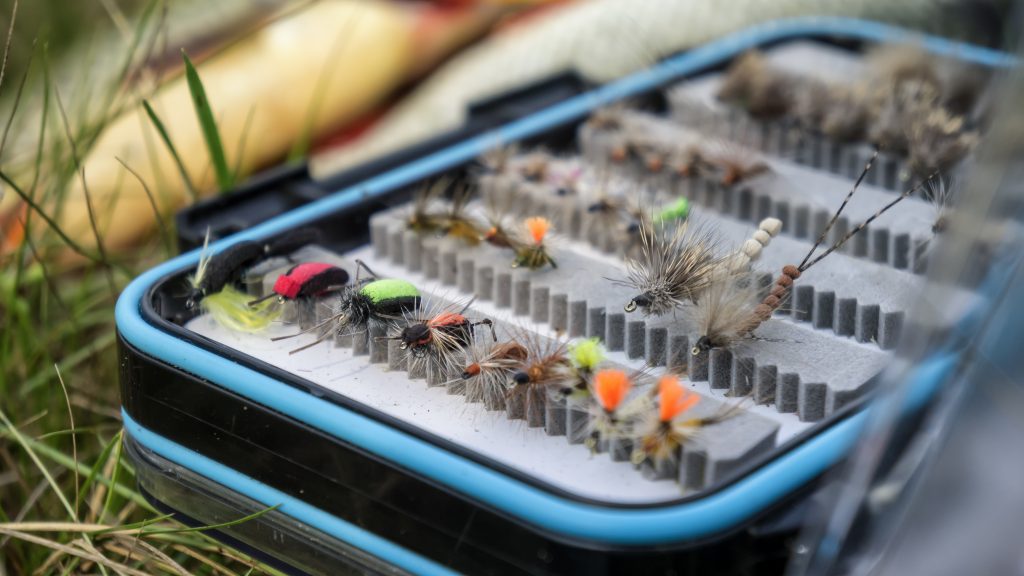 zippers are plastic or nylon, not metal.
Price Before Pride
The Rusty Angler may be the best place to find deals and fishing promotions (of course I'm a little biased there), but it is by far not the only place. Keep your eyes out for fishing giveaways and fishing sweepstakes to find the best prices on the best gear.
We all have that one friend who has to have the newest, best, and most expensive piece of gear. Personally, I prefer to have great gear that I got at a great price. And what price is better than free?
There are fishing promotions all the time in which companies give away gear to get it on the market. Now you have the best gear at no price. Awesome right? A good fishing giveaway will get you what you want and what you need without breaking the bank.
So bank your pride along with that paycheck, and let your buddy spend his money at pro shops and expensive retailers. You're already here, so you know what you're doing. Time to make that knowledge pay for itself.