Whether it's a telltale splash in a river or a hump on a fish finder, getting the right lure on the line and the line into the water is paramount. Nothing will derail that process quicker than a tackle box that's messier than a rat's nest on a spinning reel.
When a situation requires tackle modification, losing time locating that right lure, hook, sinker or swivel means a missed opportunity. Whether it's bass lures, saltwater lures, or you're going with live bait, anglers need to change tackle like a well-tuned pit crew. That means organized tackle trays.
Many a trophy fish has been lost because an angler arrived without the right organization tools and know how. So here's some pro tips on how to tackle that tackle box and take the game to a higher level.
Simply put, having a neatly arranged tackle box makes fishing more efficient. Organization pays off in more fish.
Unify Through Division
The first part of organization is knowing what to take and what to leave behind. Larger Plano boxes, like the Two Level Satchel, Magnum 3500 or the 3700, are great for storing at home and out of season lures.
These can be organized into top water to weighted lures and then further broken down by type. For example, topwater prop baits, topwater chuggers, deep-diving crankbaits, medium-diving crankbaits and square bill crankbaits.
Then, a smaller box to hold snaps, rings, drop shot, and more. This allows the savvy angler to only take what's needed for that time of year on a trip.
Soft plastic lures should be kept in original packages and stored in plastic tubs. This keeps them in good working order and can allow the smart angler to separate them into swimbaits, plastic tubes, creatures, beavers, plastic worms, plastic lizards, and plastic craws.
Group similar baits together and place them in a big Ziploc. Throw the Ziplocs into a large tub and label the tubs – Flipping Bait, Craws, Frogs, etc. This makes it easy to find a very specific bag of any soft plastic bait, grab what's needed for the day, and go.
At the end of a fishing trip, just unpack in reverse, and order additional packs of baits once a bag is close to empty.
When heading to the boat, multi-drawer boxes allow fishers to compartmentalize tackle to fit the day's situations. Boxes like the Plano 4-Drawer Tackle Box, or the Leathercraft Wild River Tackle Backpack, means everything is ready to use and easy to find.
Organize these boxes the in the same way long-term storage and home boxes are organized to ensure ease of use. Nothing loses a fish faster than fumbling through several boxes to find that perfect lure.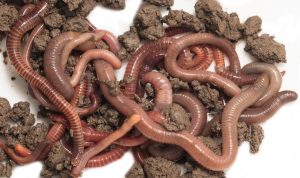 Getting Hooked
On the boat or on the shore, the hook trays are bound to get the most use. Everything from live bait to dead bait hooks, trout to tarpon, having the right hook means being able to set it when hit.
For rigging trolling baits like mullet or mackerel, try trays filled with O'Shaughnessy style hooks in various strengths and sizes. Add a few specialty trolling style hooks. And everything needed is ready and available.
Live bait hooks in various strengths from 1/0 through 16/0, should be categorized in circle hook trays. Make sure the smaller, and lighter, wire hooks are confined to one tray.
Heavier wire and large circle hooks go in a separate tray for catching the big boys like tuna or shark.
The Only Thing Salty Should be The Mariner
Saltwater tackle boxes take on a life all their own. These boxes have to be tough, durable, and able to withstand the corrosive sea air and spray. In addition, they have to accommodate varying sizes of lures and hooks.
Larger versions come with attached wheels that allow the angler to simply roll them from place to place, like overhead luggage. Some are even equipped with rod holders and tops that double as seats.
However, they all have to be able to keep gear safe, dry, and clean. Nothing destroys gear quicker than salt water. Not even an eager 10-year-old.
Some boxes will claim to be waterproof and have separate, no drip compartments for each lure. However even the best of these, like the KastKing Large Saltwater Resistant Fishing Bag, can leak. Always plan on cleaning to be safe.
Make sure every lure, jig, hook, and swivel is rinsed in fresh water before it gets returned to the box. All used lures, hooks, jigs and such should be kept in a bucket or sink until it's time to wash down the boat.
If it is a busy day out on the water and there's no fresh water rinse available, make sure everything is hosed off well before being stored, and be prepared to wash everything, not just the used lures, just to be safe.
If returned without rinsing, expect rust and corrosion to spread throughout that tray like wildfire. More importantly, even unused gear will be affected by the salt on unclean tackle.
Ideally, all used gear will get a rinse, soap, another rinse, and then be hung until thoroughly dry. That means it can take a day or more before they are ready to return to the box.
Don't Forget the Specialties
Some boxes are simply better for specific needs. Not all boxes are created equal. Use hanging boxes, like the Special Mate Hanging Spoon Lure Box for spinnerbaits. This makes sure the skirts stay fluffy.
A solid, waterproof case is needed for accessory items, such as a scale, scissors, pliers, hook remover, and knife. Keep these accessories in a plastic carry box that is easily stored and removed on the boar.
This way, back at the dock or at home, there is no rummaging around to find them. Just retrieve the knife box, where there's not only knives, but a sharpening stone, small scale, and even freezer bags for fillets.
Fishing is complicated enough. Keep it simple with a formulated plan that starts with being organized on and off the boat. Keep a disciplined approach at home and, with a little attention during the off season, everything will be available right when it is needed.