Disabled Fishing Information
Anyone reading an article on Rusty Angler already knows the joys, thrills, and true peace that a great day of fishing brings. That's why several organizations work hard to ensure those who are fishing with disabilities can get out onto the water. Fishing Has No Boundaries is a nationwide organization dedicated to disabled fishing. They offer help, experience, and group events to ensure everyone has a chance to fish. Check Out Membership information with Fishing Has No Boundaries.
Another great resource for disabled fishing information is Disabled Sports USA, which includes information for everyone from recreational fishers to elite competitors. Check out their locations. This is also becoming more important as our population ages and arthritis, Parkinson's disease, and simple age-related weakness starts to take their toll.
Boats, Docks, and Wheelchair Ramps
Each year, more than 50 million Americans go fishing. They are lured by the great outdoors, the serenity of water, and the thrill of the catch. For many, it's a way to relax and enjoy freedom away from the stress of the daily grind.
However, for those with limited mobility, the water poses an exceptional and specific danger. A wheelchair user who can transfer to a boat is fine with a life jacket and a lap belt for extra security. Many newer boats have flat front decks that help with the transition from pier to boat. Pontoon boats work well as wheelchair fishers can secure their chairs to the boat while on the water. Most resorts, disabled fishing events, and professional guide services have pontoon boats available.
For those fishing with disabilities from shore, a public access pier may provide the answer. Piers should be at least eight feet wide to allow a wheelchair user to stop and maneuver safely. For anyone fishing from a wheelchair, secure locking blocks are a must, as brakes can sometimes fail, or an unsecured chair can slide on a wet surface. There are also wheelchair loading cranes that are hand operated and can hoist a user in their wheelchair from a dock into a boat safely and securely.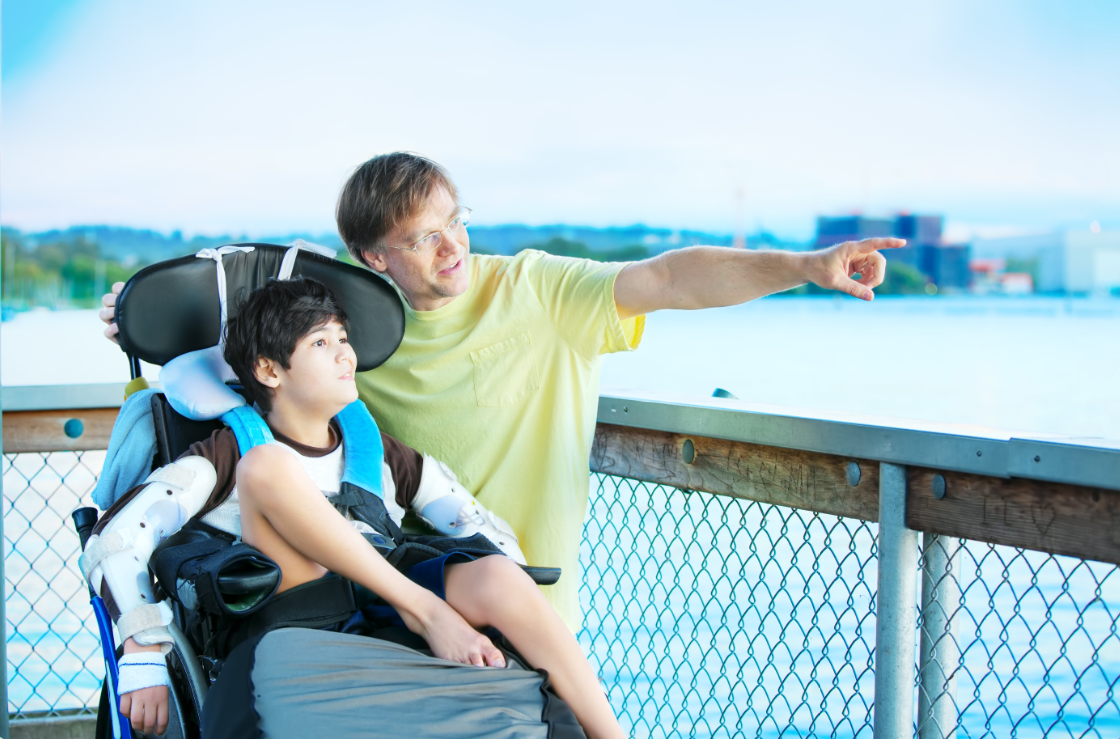 Adaptive Fishing Equipment
Adaptive fishing equipment has come a long way in the past few years. As people with disabilities who love to fish gains more support, these devices are being better designed and cost less. Despite common opinion, many of these devices are useful for anyone and can be especially useful for older people with arthritis and other limiting illnesses.
Not only should people of all ages be able to start fishing, access and gear should not be a limiting factor. Some of the most common, and easily the most important, adaptive fishing devices include:
Fishing rod mounts and harnesses

Special prosthetic for rods include a shaped prosthetic for holding a rod or handling a reel.
Rod holder wheelchair mounts include everything from basic rod holders that clamp to the frame of a wheelchair to heavy duty holders that the individual sits on.
Body harnesses to hold rods that strap across the body in either a single or double sash that attaches to a holder. Think of the holders used to carry flags in parades. Heavy duty harnesses attach to the body in the same style as climbing harnesses.
Strike Fighter makes a full line of both standing and sitting rod holders for varying levels of ability.
Clamp-on fishing rod holders are versatile rod holders that can clamp on to a variety of surfaces. These can be used on wheelchairs, boats, docks, and more.
Arm straps like The Strong Arm fishing rod holder are Velcro straps that attach to the user's arm and then lock the rod in place. These are ideal for those with limited finger mobility who still have functional arm capacity.
Reel Cranks

These devices attach to the hand of a disabled individual to help get a solid grip on a reel handle.
The Reel Cranker Hand Device is a simple to use, effective tool for those with limited finger strength who want to be as closely engaged with the rod and reel as possible.
Electric fishing reels

Push button casting devices that can send the lure into the water at varying distances.
Electric reels attach to an existing reel for retrieval of catches. With modern technology these are becoming smaller, lighter, and easier to use.
The Elec-Tra-Mate is one of the best options out there for electric reels as it is compact and effective. There are even reels made by Penn to work specifically with this device.
Automatic knot tiers like the Ty-All Knot Tier are devices that can thread a line through a hook, tie the line in place, and even cut the line. Perfect for those with limited hand mobility.
Fly fishing for the disabled
For anglers fishing with disabilities who want to be fly fishers, there is no better place to look than Project Healing Waters.  Check here for programs in your area with Project Healing Waters. This is a national group dedicated to adaptive fly fishing. Like other groups, Project Healing Waters helps those with disabilities find help, resources, and equipment to head out on the water and experience fly fishing.
Fishing with Disabilities
Finally, when fishing with someone who has a disability, it is important to keep the space and equipment in mind. There's more going on for that person than the average Joe, and those surrounding them should remember that. Make sure the equipment and area are clear and conducive to the individual's movements. For those in competitive fishing tournaments, the need to move quickly from one area to another is imperative.
Make sure surfaces are as non-slip as possible and that chairs in the boat allow enough movement and swiveling to ensure there is a clear line for casting in any direction. It is also smart to have several rigs pre-tied and ready, making it easier to change from one setup to another.
Basic gear is a must for this group, even more so than the average angler. Nets, gaffing hooks, hook removers, pliers, and a good fishing knife are a must have for the tackle box.
Call the organizations mentioned in our article to find out where you can buy this specialized fishing gear. So no matter what someone's level of ability who is fishing with disabilities, there are organizations and devices out there to ensure everyone can enjoy a great day of fishing.
Don't forget to enter our latest free fishing giveaways for a chance to land some great gear!