Saltwater Tackle, The Best of The Best
When you think of saltwater fishing, you think of the smell of sea water, the spray coming off the foam, and the tug on a line when a sharp-toothed predator takes the bait and begins to fight. Fresh water fishing is common and popular, but there's nothing that makes us smile like saltwater fishing.
From Skipjack to Bluefish, Mackerel to Grouper, saltwater fishing has exciting game fish for every age and level of experience. However, there are unique challenges that come with going after saltwater fish.
For example, any saltwater tackle needs to not only handle the fish, it has to withstand the rigors of sea salt. Nothing is quite as frustrating as a salt-corroded line that snaps during a battle with a trophy sea bass.
To keep that from happening, there are a few key items to keep in mind when choosing saltwater fishing equipment. It needs to be solid, durable, and still sensitive enough to know the difference between a big wave and a light strike.
Saltwater fishing gear and saltwater tackle fall into three basic categories: offshore gear, basic saltwater tackle, and deep sea tackle.
Basic Saltwater Tackle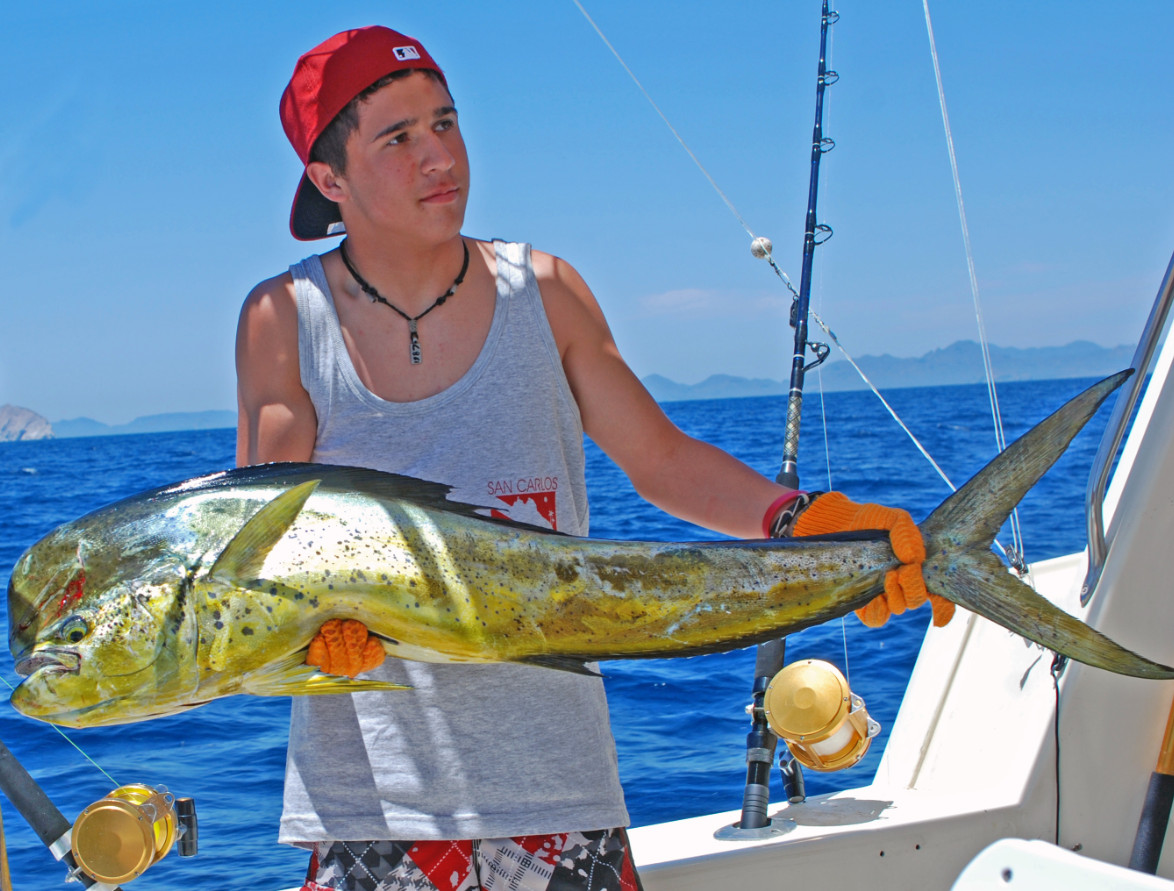 Even the best tackle can be destroyed by the harshness of the saltwater environment. From abrasive rocks, coral, and barnacles to the corrosiveness of salt, it takes specialized gear to handle these fish.
Saltwater reels need to be rugged. Make sure any reel used for saltwater has anti-corrosive properties and can handle being rinsed and submerged in fresh water for cleaning.
The Shimano Triton Lever Drag Reel is one of the best salt water casting reels made. Made with graphite, ported aluminum, and stainless steel construction, this reel may cost more but it will last long enough to teach the grandchildren how to fish.
Check out Shimano's web page, as well as sites like Rusty Angler for fishing giveaways that can result in scoring some free fishing gear. For saltwater spinning or casting reels, it's simply hard to beat Shimano for quality and durability.
Saltwater fish are usually aggressive chasers. That means saltwater lures almost always mimic smaller prey. Think minnows, shiners, shrimp, and squid. Also, think of shiny lures that can be seen flashing as they are reeled in.
Basic saltwater accessories that every serious angler should have include:
Gaffs and nets
Pliers, wire cutters, and strong scissors
Hook removers and protective gloves
Corrosion-resistant knives, and dive knives are a great choice here
Deep sea fishing tackle
When deep sea fishing, the stakes are raised. A full-sized blue fish will easily bite through conventional line, and a 700-pound grouper will tax the best rod and reel.
The answer is the Malin Hard-Wire Stainless Steel Leader. Solid, corrosion resistant, and able to withstand the sharpest teeth in the sea, this is a must have piece of gear for any deep sea angler.
In addition to leads, lures for deep sea fishing are a different breed. Given the rapidly changing light and unpredictable movement of the sea, lures have to be highly adaptable.
For example, the sturdy, hard baits made by Yo-Zuri are a great choice. A lure like the Yo-Zuri Bonita lure changes color and is great for catching tuna and Wahoo. This solves a multitude of deep sea issues and is sturdy enough to stand up to a tuna's strike and pull.
Offshore Gear
Offshore fishing combines the size and power of deep sea fish with the exciting fights and agility of shoreline fishing. Gigantic rods and reels that will cast past surf and into deep water require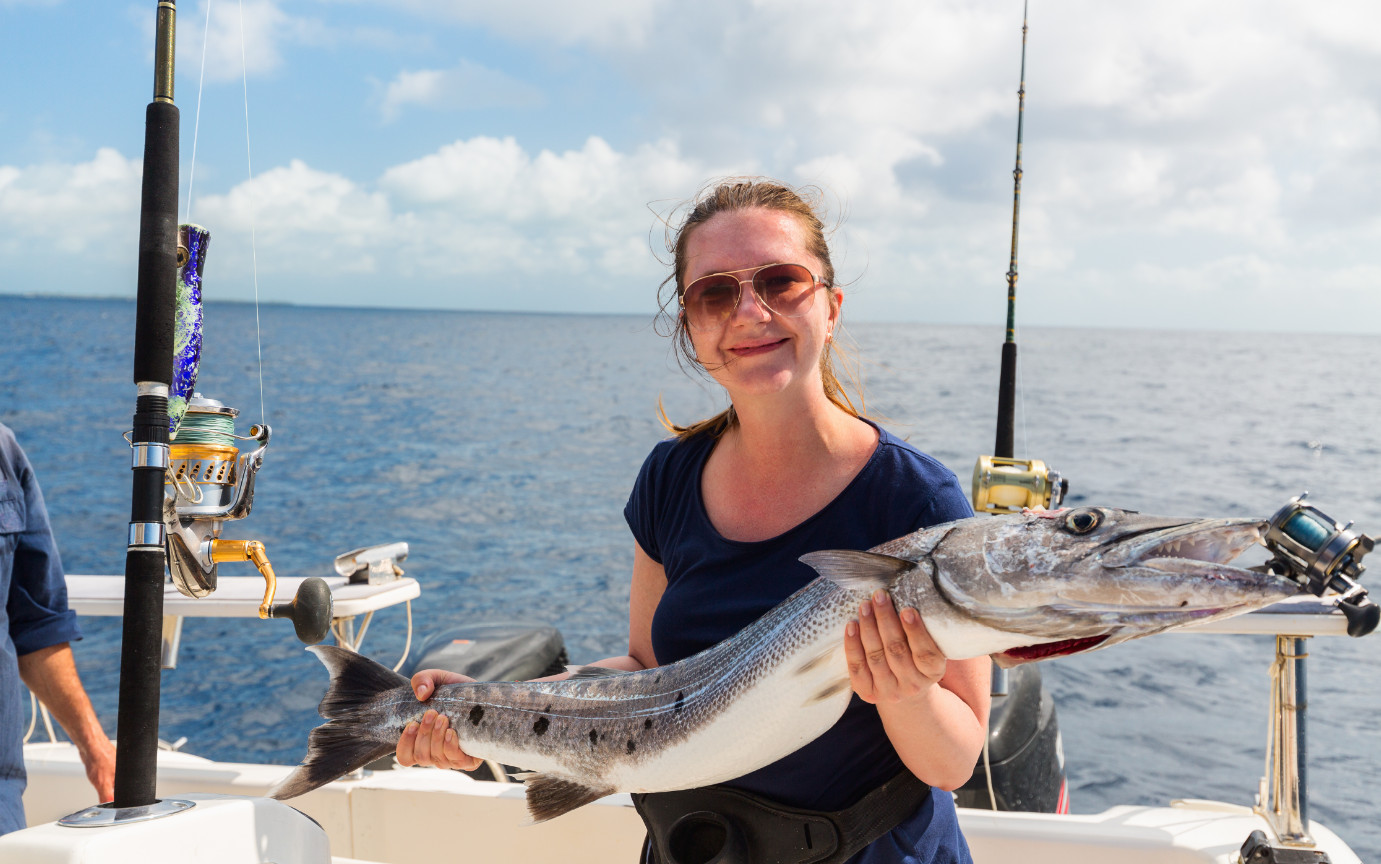 special components.
The Offshore Angler Power Stick Stand-Up Rod combines corrosion resistance with strength and size.
Rugged, tubular E-glass blank construction delivers extraordinary toughness. Combine that with super durable black frame guides, as well as titanium oxide rings and it is a combination that can handle anything the surf throws at it.
Add an Offshore Angler Mahi Cup Sr. Trolling Lure onto the line and wait for the hit! This full-sized lure can be reeled in at 6-to-10 knots, creating a movement and displacement that attracts tuna, billfish, and even dolphin fish (Mahi mahi).
When going for these giants, make sure to have an Offshore Angler Fishing Belt – Light Tackle – to handle the strain of fighting a monster to the surf. Be prepared for the fight and bring in a catch that very few can brag about.
Saltwater Fishing Apparel
When saltwater angling becomes extreme saltwater fishing, then the smart saltwater sportsman knows it is time to gear up with the right apparel. If salt water is hard on gear, it is absolute murder on traditional clothing.
Nothing can distract from a catch like torn clothing or falling pants. There are a lot of companies making good saltwater fishing apparel, but all have a few consistent properties.
Look for:
Three Ply DuPont™ Supplex® Nylon
RipStop material
YKK coil zippers
CORDURA® lined plier pockets and cuff facings
Extra padded and durable seat and knee panels
Comfort is just as important for the angler as having the right saltwater terminal tackle. It doesn't matter how well the hook is set if the fisherman on the other end of the line can't successfully reel in the catch.
A proper set of gloves with protection against sharp spines, even sharper teeth, and a sliding line is a must have to stay safe. Don't forget to keep eyes covered and shaded. A good set of polarized glasses and protective hat are important for saltwater fishing.
Finish it all off with a pair of comfortable shoes or boots that will give a solid grip against multiple surfaces while keeping those feet dry and protected. Be it boats, shore, or docks, there's a lot out there that can injure poorly protected feet.
Make sure your shoes are covering all your toes and the top of the feet, while allowing water to either bead off or run through drain holes. This is especially important for offshore fishing and those on slippery boat decks.
If you're more interested in staying closer to home, learn more about inshore saltwater fishing gear and techniques with our additional inshore fishing tips.
So grab that gear, dress for the surf, and head to the beach or out on the ocean. Some of the world's best fishing awaits!