Fishing As a Hobby
Nearly 1 in every 6 Americans went fishing last year. More than 55 million people hit the water ways angling for a good time, the largest increase in fishing participation in more than 40 years.
First time participants rose more than 14 percent. This left a lot of new anglers wondering just how to fish.
Most of the time, those introduced to fishing are children, and they are learning from either a parent or someone like a camp counselor. Luckily, there are plenty of resources out there for adults just starting out.
The first step is finding out what fish are in the area. Most states and cities have on-line resources to identify the species of fish in local rivers, lakes, or seaside.
How to Choose a Rod and Reel
For most beginners, a spinning rod and reel set is the way to go. These are not only the most versatile of rigs, but they are the easiest to learn and most forgiving for beginner mistakes.
Beginner spinning reels mount under the rod, facing down, with the line guides facing down as well. The angler holds the reel between their fingers. There are many sets that come pre-strung and ready to go.
The best fishing rod and reel combo for beginners are:
Shakespeare Ugly Stik GX2: Shakespeare is a standard name in fishing and continues to provide excellent kids fishing gear at reasonable prices. The Ugly Stick series is their go-to line.
FishOaky Starter Fishing Rod: this collapsible set is not only light and portable, but it also comes with a variety of hooks, lures, and other starting accessories. It is a great choice for saltwater beginners as it is made to be non-corrosive.
Penn Fierce II: This is a graphite set made to the high standards of Penn, but still affordable for those just starting out. Like the Ugly Stick, this a standard beginner go-to set.
Best Tackle Box for Beginners
Along with a rod and reel, beginners will need hooks, weights, floats, and lures, as well as a tackle box to store them. Like beginning rods, there are a variety of options out there that are inexpensive and still complete.
Plano Ready-Set-Fish 3-Tray Tackle Box: The name of this set says it all. Plano is a well-respected brand that supplies quality for a reasonable price.
MadBite Freshwater 214pc Terminal Tackle Kit: This is an excellent starter kit for those sticking to freshwater fishing. It will not stand up to saltwater conditions but is otherwise an excellent choice.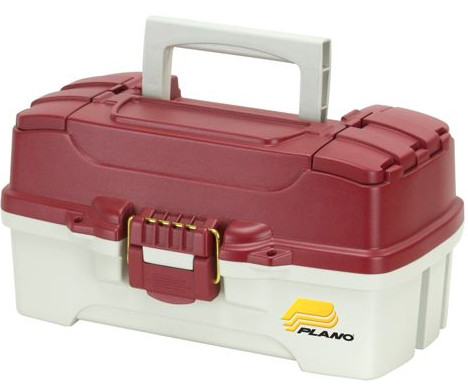 How to Tie a Fishing Knot
When learning how to fish, one of the most basic skills is how to tie a fishing hook to the line. There are two common knots that every angler knows.
The Clinch Knot: Also known as a fisherman's knot, this is an easy, durable knot that will keep the hook on the line no matter how hard the fight.

Pass the end of the line through the hook eye and wrap it around the line's body 5-7 times.
Insert the loose end through the first loop next to the eye and bring it back through the loose section.
Pull both ends to tighten. Trim any extra line.
The Snell, or Knotless Knot: This is like the fisherman's knot, but ties around the hook for a more solid feel and smoother release.

Cut the line to your preferred size and loop the end of it.
Tie the loop.
Insert the opposite end through the eye of the fishhook from front to back.
Hold the hook's shank and wrap the line around 6-8 times heading down toward the end of the hook.
Grab the other end of the line and push it through the hook's eye from back to front.
Moisten the line, hold the hook and the looped part of the line firmly, and pull the other end to complete the knot.
How to Set Up a Fishing Pole
With line tied to hook or lure, the last part is setting depth. Most beginners fish with bait, which means a weighted sinker and a floater, or bobber.
Bullet weights are the best for beginners. This is because they can easily be moved to different spots on the line and can be tied on after the hook.
Many beginners find they've set their rig but forget the weight and must undo everything to start over. This avoids that frustration.
The weight should be tied several inches away from the hook. This allows the line to sink to the desired depth but allows the bait free movement in the water.
A bobber is added to keep the line in place and to alert the beginner with a visual indicator of a strike.
Most bobbers are round and have spring-loaded catches that allow them to be moved anywhere on the line. This allows anglers to change the depth of their bait with ease.
Finally, hook the bait being used and the fishing jig is ready to be used.
How to Get a Fishing License
Many, but not all, areas require a license to fish. Before any new angler hits the water, they need to ensure they are following all applicable state and local laws.
Nearly every state requires a license to fish. Some states have discounted, or free, licenses for children and seniors. In many coastal states, anglers need separate licenses for fresh or saltwater fishing.
There are also some species of fish that require a special license.
It is, however, easy to apply for a fishing license, and to get a fishing license. Many outdoor retailers have license kiosks directly in the store, meaning a new angler can get gear and license all at the same place.
While many law enforcement officers are understanding of new anglers not knowing the need for a license, it is always better to make sure those going out have everything they need to avoid fines.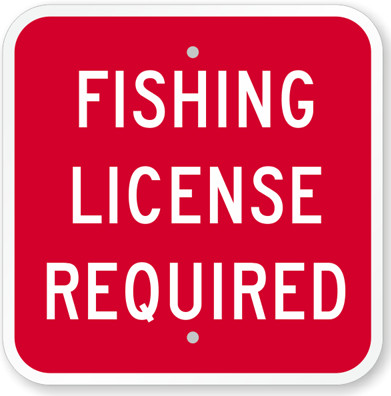 Keep or Catch and Release
Finally, decide before heading out if these are fish to keep and eat, or ones to catch and release. If keeping them, make sure to have a bucket or gill line handy. Check out the types of fish you can catch with your kids and teenagers.
If releasing, make sure to get a net and a good set of hook pliers to ensure the fish is harmed as little as possible.