TACTF Organization – Teach a Child to Fish
A parent and a child sitting on a dock or in a boat with the summer sun beating down while they cast a couple of lines into the water and await a bite–there are very few more iconic American images than this. When you teach kids to fish, you're teaching them a skill they can hand down to their children for a lifetime.
But fishing and teaching fishing are two very different things. Not everyone knows how to scale techniques to a child's abilities and, even more so, many people can fish but don't know how to explain it to one another.
Luckily, there are resources and options out there for the angler looking to bring their love of fishing to the children.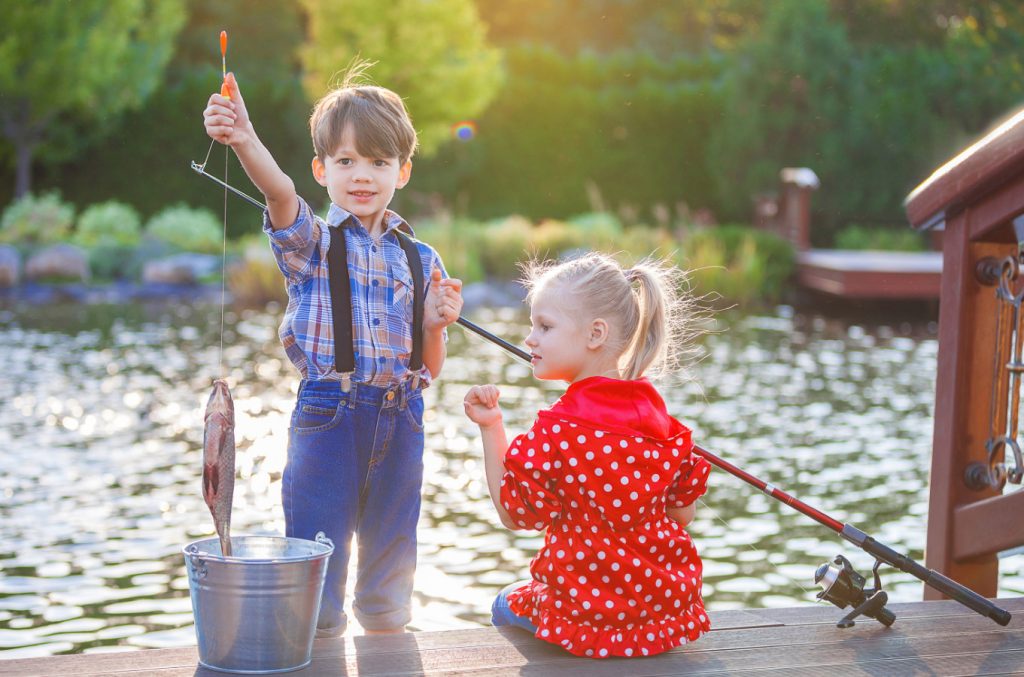 Teach A Child To Fish, or TACTF, is an organization dedicated to teaching children to fish and discover their own self-worth while learning to respect nature and enjoy the outdoors.
For those who are new to teaching and coaching, this can be a great resource for information, tips, and more. However, when planning family fun, here are a few things to remember when heading out.
Scout for Locations – Where is important
The whole point of fishing is catching fish. Whether the plan is to fish from a boat, shore, or a dock, make sure the location is one known to have fish. Fishing maps and Almanac's are a great resource for this strategy.
The local tackle and bait shop is also a great place to get some help. Make sure to bring the kids along as well. Have them watch how to ask for pointers on where to go, successful baits for the area and type of fish, and information on fishing regulations and licenses.
Remember, this is about teaching the kids, so don't skimp on their experience and interactions.
Fishing Gear Up and Get Ready
Organizing gear in advance will take a lot of the stress out of the trip. Make sure packing includes all the essentials: fishing gear, a second set of warm socks, snacks, drinks, water, sunscreen, bug repellent, rain jackets, hats, first-aid kit, sunglasses, and tools.
This is also a good time to teach about responsible money handling. Sites like the Rusty Angler have fishing sweepstakes and fishing giveaways that offer free fishing gear. This can save a lot of money on gear for each winner.
Not to mention, everyone loves free fishing gear. So let them learn about fishing sweeps and a good fishing giveaway at the same time.
Safety, Safety, Safety
Safety should always come first. Nothing ruins a day like an accident, and nothing can put a child off fishing forever like a bad initial experience.
Life jackets are a must for kids around water. Make sure only adults handle hooks. In addition, some companies make child-friendly gear that is safer.
For example, Shakespeare's Hide-A-Hook Float is a great device that hides the hook within the bobber for safer casting. This allows a little more freedom for the child while ensuring no bloody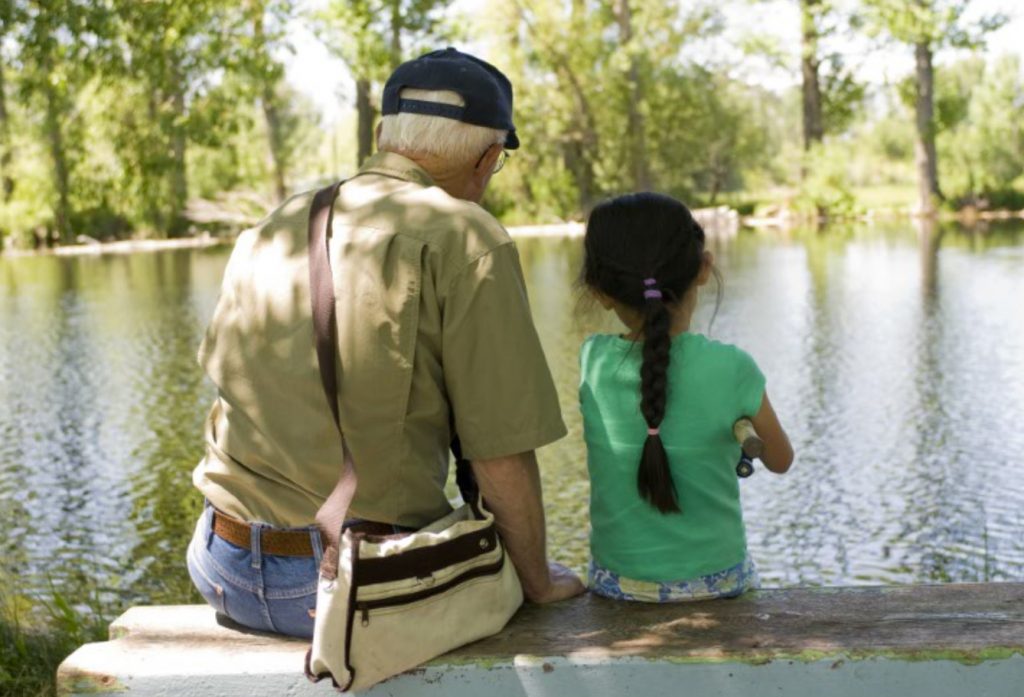 trips to the emergency room.
Teach Tactics, Talk Tactics
Children are curious, so explain how a float works and how it moves when a fish bites. After a cast, tug on the line while the child holds the rod to simulate a hit.
Once the child is comfortable, demonstrate how to set a hook. Make sure the child knows that this, like any skill, takes time and practice to learn.
Handle The Rod
Teach kids how to grip the handle of the rod keeping it in front of them in a 9-to-11 o'clock position. Explain how the reel handle turns and how to react to a bite.
If you're new to bass fishing, Rusty Angler has a great article for beginners, too.
Help them learn how to grip the rod tightly enough to keep it from getting pulled out of their grasp, but also loose enough to control and feel the line.
Not All Casts Are Appropriate
A sidearm cast, not an overhead, is better and safer for kids. Give them lots of encouragement and praise to help develop a long-term love of fishing. For casting, make sure they follow this checklist:
Shoulder-check to ensure no one is in harm's way
Bring the rod back–keeping it above the waist
Swing the rod forward while flicking the wrist and releasing the line prior to the rod pointing at the target
End with rod pointing at target
Get The Right Gear for Success
Success often means having the right equipment to start. For children, a bait and bobber combination are easy to use and handle. Teach kids to fish the right way, the first time, and they will only get better with each fishing trip! Consider signing up for the best monthly fishing box, so you have the best gear for every exciting adventure together!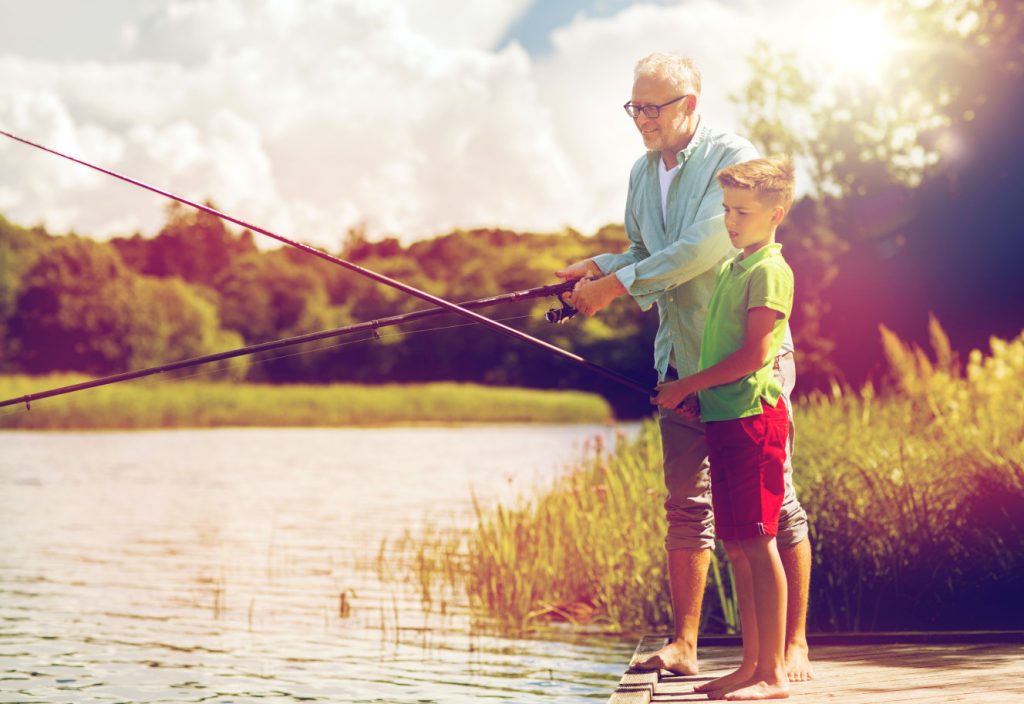 Look for a quality spinning or spin-cast combo between 3 1/2 and 5-feet in length. Spool the reel with 6-pound monofilament line, and make sure the child watches and understands what's happening.
Many companies, like Zebco, Shakespeare, and Lanaak, make rod and reel combos that are specifically made for teaching children. These are inexpensive and a great way to go. Later, the child can upgrade to a more adult rig.
Look for fishing promotion codes and fishing contests from these companies to score this gear inexpensively or even free.
Use Artificial Baits To Teach Kids to Fish
 While live bait is highly effective, soft-baits are durable and won't spoil, making them ideal for teaching. Rig baits on a light jig and cast away.
A jig dangled beneath a small float and occasionally twitched is an effective tactic for youngsters. As the child becomes more engaged, teach them a slow reeling or hopping jig retrieve.
Catch and Release or Eat
If teaching for sport, make sure the child learns proper catch and release tactics. Learning to fish takes patience, so help them learn how to slowly and steadily play fish.
Then, encourage kids to independently land a fish quickly or ask for help. Once the catch is out of the water and a photo or two is secured, demonstrate proper release methods.
Alternatively, if it's fish for dinner, explain selective harvesting and the concept of eating what is caught.
Fun, Fun, Fun
Finally, and most importantly, fishing should be always be fun. Keep this objective in mind and regardless of the number of fish caught, each outing will be a success.
The end goal is to instill a love of fishing and the outdoors in every child and help them understand that anglers are part of the natural world. Appreciate, catch, and have a great time. When you teach kids to fish, you instill responsibility, a skill, mentor ship with a great role model and a lifetime of great memories.