What to Know About Smallmouth Bass
Bass are likely the most iconic American gamefish, followed closely by rainbow trout. Bass fishing is a multi-billion-dollar industry from lures and rods to boats and tournament franchises.
Still, most anglers only think about the well-known largemouth bass. But there is plenty to enjoy, both in angling and in eating, when it comes to their less famous smallmouth cousins.
Smallmouth bass, so named because the mouth does not extend past the eyes like it does with largemouth bass, are about half the size, give the same fight, and have twice the flavor of their larger brethren.
Tips To Catch Smallmouth Bass
Fishing for smallmouth bass takes patience and skill. Articles on how to fish for bass often go into detail on casting angles, line-drop timing, and line color to keep from scaring the fish. However, when it comes to catching bass, especially smallmouth bass, it is not as hard as it sounds.
Basically, be quiet.
Smallmouths are a species of sunfish and behave much like them. They are freshwater, fond of streams and lakes, and like areas with stumps and rocky areas where they can hide and ambush prey.
Smallmouths prefer cooler waters and can be found in both still and running water. They are also intolerant of pollution, so a healthy smallmouth population is a good sign of environmental cleanliness.
Smallmouth bass, also known as smallies, will cover a lot of water and do so without hiding. Those targeting smallies should forget the reeds and mud and focus instead on clear water and rocks.
Smallmouth bass will also chase bait and are much more aggressive than largemouth bass, making them a lot of fun to catch. At half the weight, they are also good fish to introduce children to bass fishing.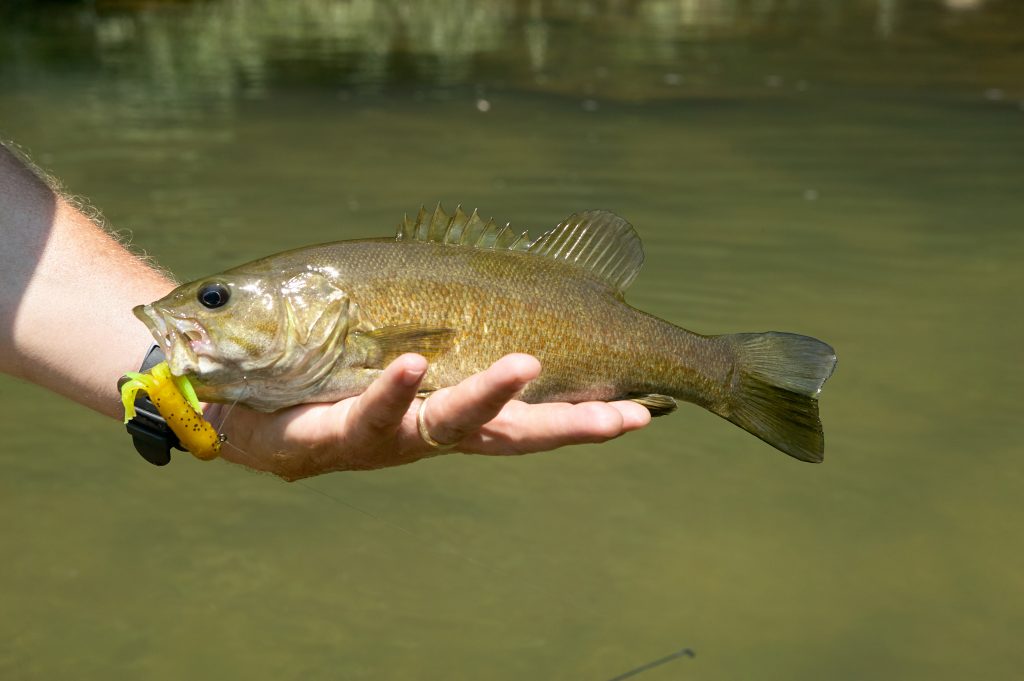 Jigs and Rigs for Catching Smallies
For smallies, ditch the shoreline and get in a kayak or bass boat. Leave the reeds and head to open water.
Open water means the best lures for smallmouth are going to be crankbaits, vibrating jigs, and spinnerbaits.
Lures like the Heddon Torpedo Prop-Bait is a great choice, as is the Rebel Lures Pop-R Topwater Popper. Both have great action and will bring the fast-hitting smallies to the surface.
To get a good response, anglers will cast the lure to a likely area and let the ripples settle. Then, give the line a few twitches, reel it in and let the smallies chase it for a strike.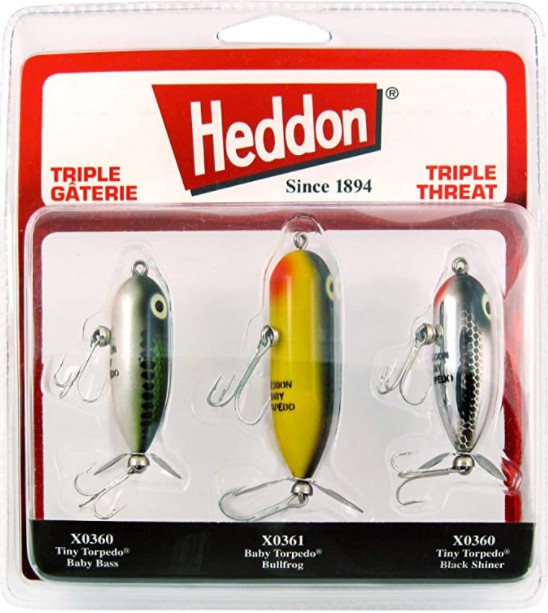 Spin For the Win
Spinners are another go-to for catching smallmouth bass. Small spinners, with an imitation grub on one arm and a spinner on the other, are surefire hits.
Johnson Rattlin' Beetle Spin is a great choice as it comes in multiple color options and has enough space between the grub and the spinner to make hook retrieval a breeze.
Spinners are best fished just below the surface. Anglers should allow them to sink and then use a slow, crawling reel to bring them towards the surface. A few quick tugs and takes can imitate an injured minnow, something most smallies cannot resist.
Experienced anglers know that smallmouth bass with strike hard and fast, giving the line a thumping hit requiring a quick response.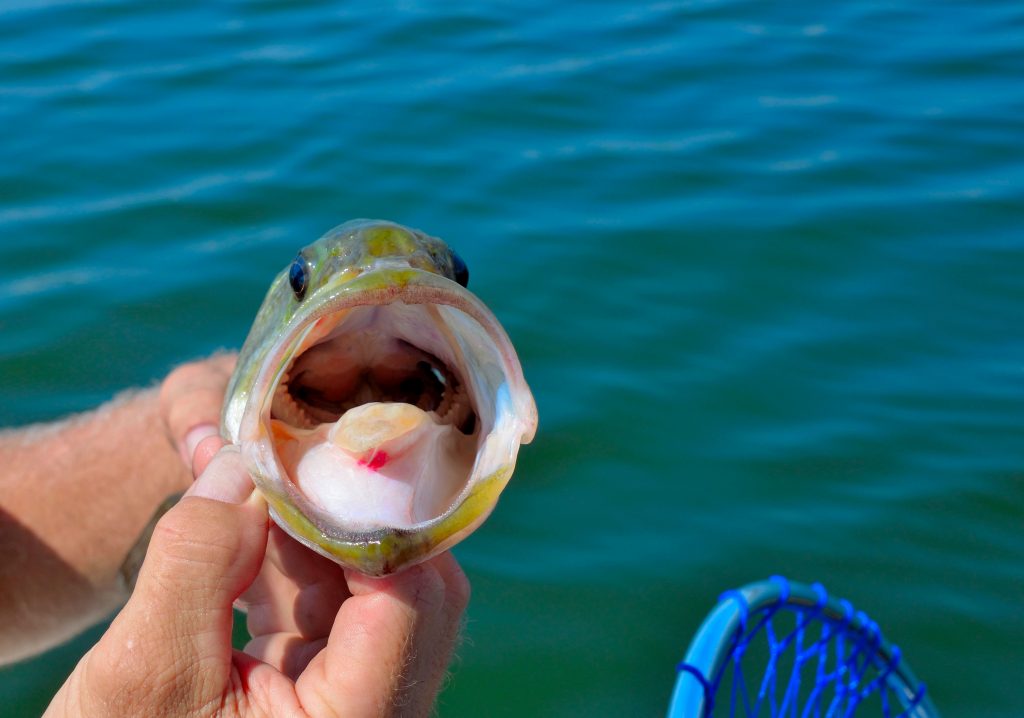 Cranking Out the Win
Another sure winner is a good crankbait. Small versions of largemouth bass crankbaits are a good choice as are crayfish models. For smallmouth bass, fishers should stick with baits no longer than two inches.
The Bass Pro Shop XTS Micro Light Mini Crankbait is an excellent choice, as is the Storm Original Wiggle Wart, one of the most erratic moving crankbaits available.
Crankbaits are great for float fishing and kayaks. A drifting angler can cast and reel repeatedly, drawing the aggressive smallmouth towards the happy fisherman.
In deeper water, a five-foot depth crank, like the Rapala DT-6, will ricochet off rocks and logs and entice hits.
When a smallmouth does strike in moving water, a fisher should be ready for a fight. Most anglers think of bass as the laidback, slow, bigmouth bass. Smallmouths are feistier and acrobatic.
Smallmouth bass are half the size of their larger cousins, but they will punch well above their weight when it comes to a fight. This makes them a target of many serious gamefish anglers as well as youth fishers.
Must-Have Gear for Smallmouth Bass
While there are many specialized rods and reels for bass, a medium light spinning rod between six and seven feet in length is a versatile rod that can be used in almost all bass environments.
Match the rod with a 2000 series reel spooled with eight-pound monofilament line for a reliable go to combination.
Rods like the Pflueger President Graphite Series or the St. Croix Triumph Spinning Rod are great options. Bass Pro also has a line of mid-priced spinning rods that are made specifically for bass fishing.
Look towards the Shimano Sienna FG or the Daiwa BG 2500 for reliable spinning reels that can handle anything an angler targeting smallmouth bass can throw at them.
For rivers and crystal-clear waterways, an ultralight spinning outfit is a must. The best combinations will be a six-foot ultralight rod with a 1000 series reel. Spool it with four-pound monofilament for a lightweight, responsive rig.
A smart angler will match a Shimano Spirex FG, spooled with Berkley Trilene XL, to a Shakespeare Ugly Stick Elite Spinning Rod for a rig that will perform repeatedly.
Check out the types of bass fish and see which one you want to catch on your next fishing trip!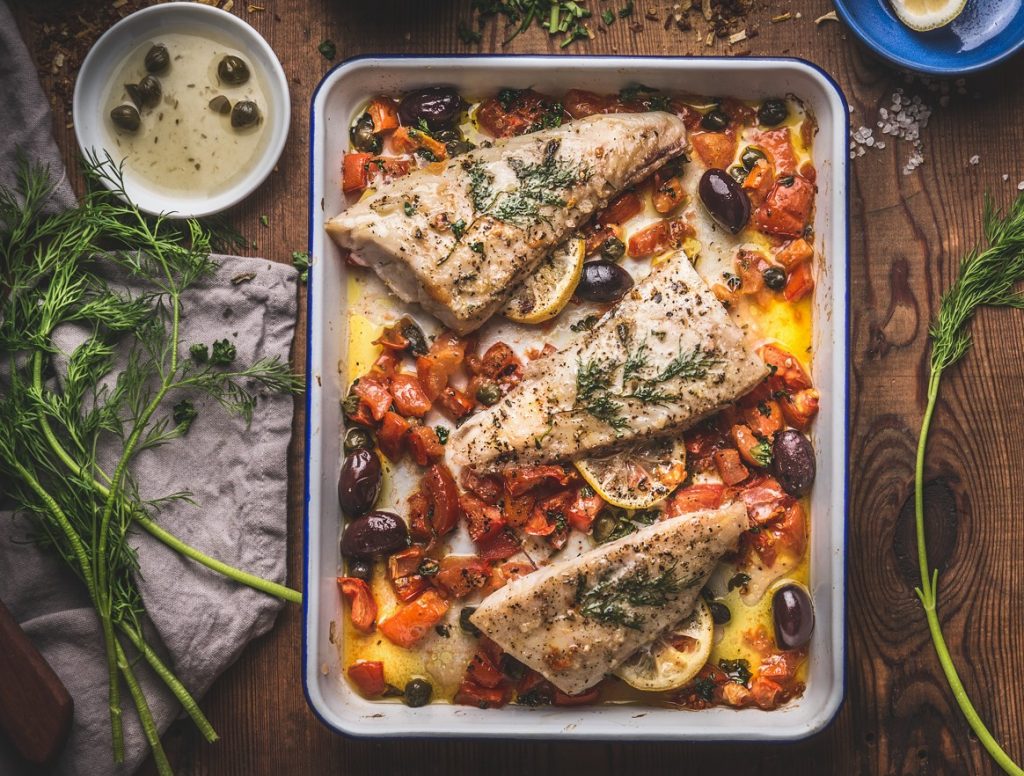 Smallmouth Big Flavor
Many seasoned bass fishers say that smallmouth is a sweeter, and tastier, fish than the fatter largemouth. Smallmouth bass is a seriously nutritious fish to eat, with concentrated proteins and high levels of fatty acids.
It is a delicate white fish with a clean favor, especially those caught in fast moving streams and rivers.
Smallmouth is often served as a lightly seasoned, pan seared, fillet. However, the light meat lends itself well to any variety of seasoning and cooking styles, including baking, grilling, and a cast iron pan over an open campfire.
Check out bass fishing for beginners if  you're taking  your child on their first bass fishing trip!