Bass Fishing Tips and Techniques
The most popular and well known gamefish in the United States is the largemouth bass. Weighing up to 25 pounds and measuring nearly 30 inches, these fish are known throughout North America as a truly great fishing experience. Millions of people fish for bass each year, but many of them are new to the sport. So the tips here will be all about bass fishing for beginners.
The most popular states for bass tournaments are: Georgia, Mississippi, Indiana, Florida, and Alabama. The professional Bassmaster Classic tournament has enough sponsors and popularity that the first-place prize money is half a million dollars!
With that much popularity, there are more tutorials and advice columns on largemouth bass fishing tips than anyone could possibly read. However, there are few for beginners.
Welcome to Bass Fishing For Beginners!
How to Catch a Small Mouth Bass
There are predominantly two types of Bass, smallmouth and largemouth. Fishing for them requires a different approach and anglers need to know exactly what they are after.
Smallmouth bass are members of the sunfish family and are unique to fresh water areas. Also known as a Black Bass, it is a popular game fish throughout North America.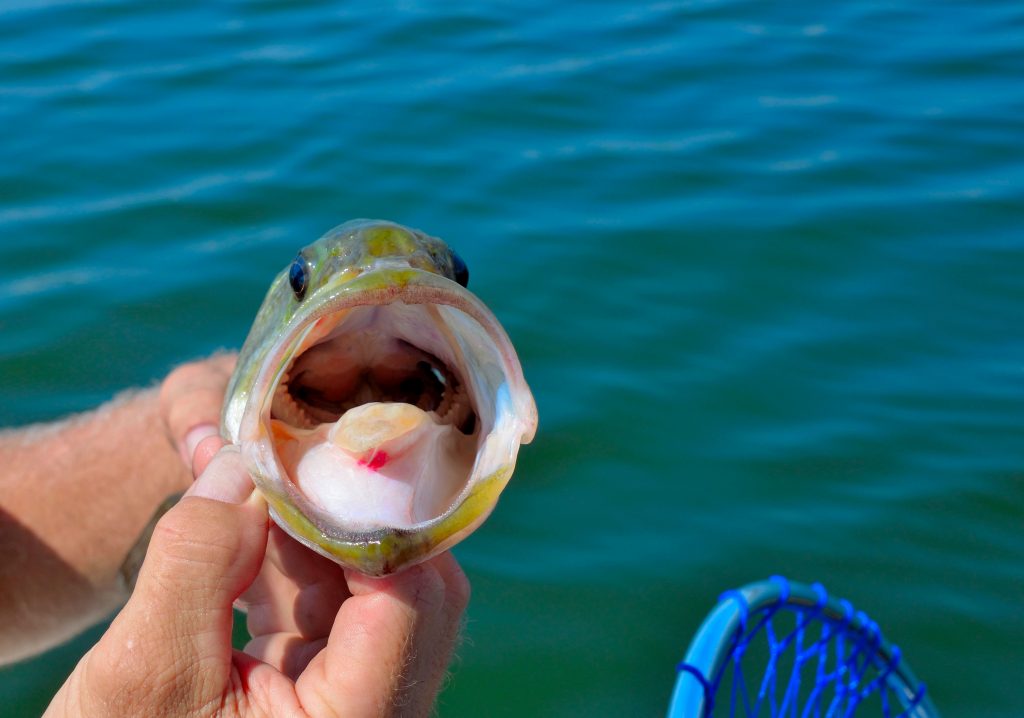 Smallmouth bass can reach up to 27 inches and weigh 12 pounds. Most are smaller. Native to the upper and middle Mississippi River, the Great Lakes system, and Hudson Bay, these are great fish for beginners.
Smallmouth will hit most bass fishing bait, and unlike their larger cousins they cover a lot of water and do so without cover. This is even more apparent in warm weather when baitfish stay away from shore.
Anyone thinking of catching bass should start here, as smallmouth are also much more aggressive and will often swim in fast current waters.
Largemouth Bass – Go Big!
Bass fishing takes patience and skill. Articles on how to bass fish go into great detail on angles and timing to keep from scaring the fish, but it's not as hard as it sounds. Basically, be quiet.
Cast the line from an angle into the bass beds, let the line sink, and then work it in place. Largemouth are unlikely to chase. Remember, they are lazy. However, they will suck in a line that's tantalizingly close.
In many cases, anglers will be able to see the bass hiding in reeds and work the line directly to it.
How is Artificial Bait Used for Fishing Bass?
Compared to other fish, Bass are eager when it comes to lures. Every experienced angler has an assortment of bass fishing lures in his tackle box.
However, remember these lures each focus on particular types of bass. This means bass fishing lures come in a wide variety, with some specific ones that everyone should have.
Bass fishing for beginners should begin with soft plastic fishing techniques. Using these types of lures is considered the best way to develop a feel for bites. The angler needs to feel the fish pick up the lure, often without it moving.
Unlike top water strikes, there is no big splash or sudden tug. This means learning how to use soft plastic baits requires patience and a healthy respect for the process.
Best Soft Plastic Baits for Bass
The first plastic bait most experience is a soft worm. Rigged by running a hook through the body, and often turning it back into the worm to avoid snagging, this is a basic plastic worm set up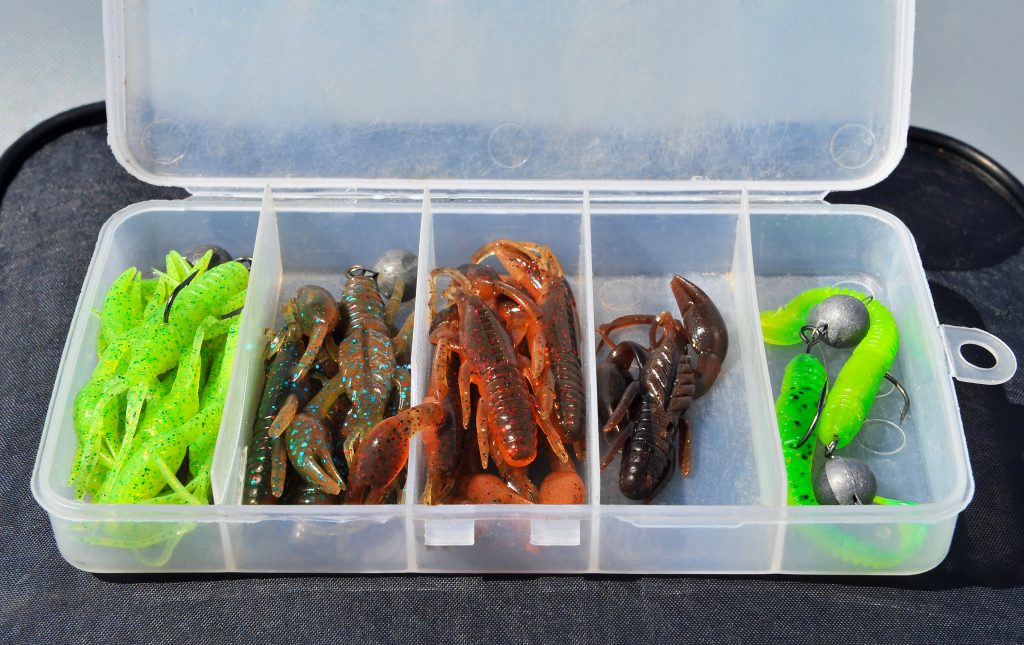 everyone should master.
Largemouth bass fishing for beginners should also include a tutorial on patience. Unlike other fish, largemouth are lazy and usually won't chase a lure. The best soft plastic baits for bass have motion to them that entice the bass to check out the line.
Creature lures are soft lures that mimic lizards or other small creatures. The many appendages give them action and help them look alive. They can be great baits for sparse cover, sight fishing, and pitching around objects.
Put one of these on a fishing line and stop worrying if it is the right lure. It is. In addition, these soft plastic baits for bass work great in muddy and clear water alike.
For bass fishing beginners and experts alike, one of the greatest advances in fishing has been YouTube.
With hundreds of hours of tutorial videos, competition recordings, and more, any serious fisher should be bass fishing YouTube whenever possible. There are literally thousands of bass fishing tips and techniques for everyone, and they are all concentrated in one place.
The number one piece of advice given to beginners is to watch videos on casting techniques. The second most common piece of advice is to go do what I said in the first place and watch some casting videos.
Casting is an important skill in bass fishing and the popularity of YouTube has made it easy to get expert advice and insight without leaving home.
Casting Lines – Reel in the Savings
Here at the Rusty Angler we believe in fishing giveaways, fishing sweepstakes, and fishing promotions. While a fishing giveaway might land some free swag, fishing sweeps are a great way to enter competitions for extra gear.
Just like advice on casting and baiting, the internet is filled with specials and deals on everything from lines to lures, rods to rigs. Since there are so many, here at the Rusty Angler we have found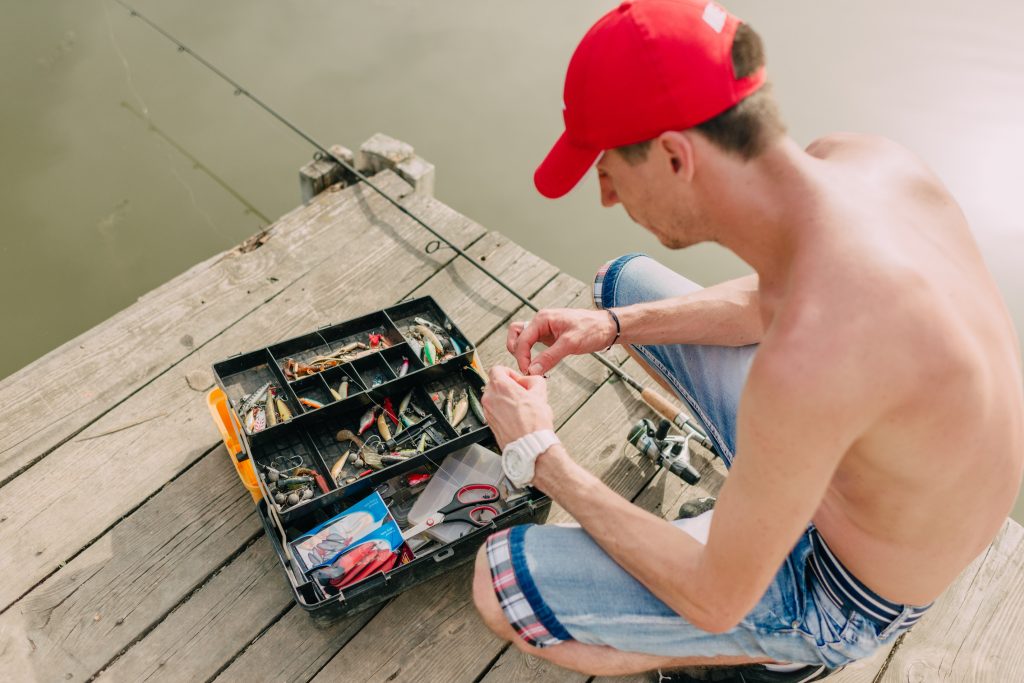 ways to help keep that bank account as full as a stocked lake.
One of the best areas to investigate is the world of fishing promotions. Companies have fishing promotions all the time specifically to attract new buyers or to highlight new products.
Why is that important? Well, that means gear at either greatly reduced prices or even free. This is ideal for beginners who may not know which piece of gear to get. So, get all of them free and stop worrying.
On another note, a good fishing contest allows anglers to win free gear just by doing what is already being done – catching fish.
So grab some gear, our newfound bass fishing for beginners crowd,  and check out the latest Rusty Angler deals and giveaways. Find that sweet little bass hole just waiting to be fished. Those fish are out there and they sure aren't going to catch themselves. Happy fishing!