Swimbait – Catch What's Biting!
In elementary school, science class teachers say that big fish eat the little fish. It's true then, and it is true now. To catch a fish, the best bait is something else that swims in the same waters. Let's discuss the best swim baits by type.
Enter the world of swimbait. These lures are exactly what they sound like, artificial versions of swimming prey. Originally created to imitate young trout, these lures have exploded in options and styles during the past few years.
These lures were designed to catch bass, and they are still designed with that goal in mind. Bass lakes were stocked with young trout as a food source, so larger bass have learned that these are the fish to eat.
Swimbaits come in a variety of styles, but they can still be categorized into swim baits by type. There are paddle tails, hard body lures, and soft body crankbaits. All have their ups and downs.
Regardless of the type, however, they all share the same distinction of moving through the water in a way that mimics the natural movement of a bait fish. Different fish like different prey, so the movement type can be important.
Swim Baits by Type – Natural Movement
Paddle tail swimbaits are some of the most common. These lures have solid bodies with a paddle like tail that forces them to move through the water like a swimming fish.
Paddle tails are soft and some of the smallest swimbaits. They usually come in packages with several versions. They do not have hooks, which allows the angler to create whatever type of bait will work best.
In particular, these are good for high weed areas because they can be rigged to be weedless.
6th Sense Swimbait
The 6th Sense Core X Hollow Swimbait is such a lure. Originally designed from a clay mold, they have entered full-scale production with custom, lifelike color schemes and 3-D eyes. These paddle tail swimbaits have a true hollow core and a wall thickness that replicates the shimmering action of bait fish.
Hard Body lures are extremely lifelike, not only in look but action as well. It's because of this and their large profiles that they attract large bass. However, a lot of work goes into the fine tuning of hard swimbaits, and as a result, they can be very expensive.
22nd Century Swimbait
22nd Century Triple Trout Swimbaits can cost upwards of $150, but they are worth it. With multiple hinge points and dynamic reproduction, these are a go-to lure for any serious bass angler.
Typically, the hard body models come equipped with treble hooks and are far from weedless. In other words, don't risk that $140 lure in the weeds when another option is available.
Beast Coast Swimmer
That other option would be something like the soft body Beast Coast Fishing Miyagi Swimmer. This dynamite little lure is under $8 (plus shipping unless you find free shipping on another site or local bait and tackle store) and can hold its own in weeds and grass alike.
Huddleston Swimbaits
For a little larger lure, look no further than the hand painted Huddleston Deluxe 8" Trout Swimbaits. The Huddleston Deluxe swimbait combines truly realistic look and swimming action. It has a wire harness that runs through the bait with an eye on the head and an eye on the belly.
Duel Hardcore Glider
Lastly there are glide baits. Lures like the Duel Hardcore Twitch'n Ninja Glider deliver a methodic, Japanese gliding action that begs bass to strike. This lure reacts to subtle rod movements with a meandering S-shaped action that spurs predators to come closer.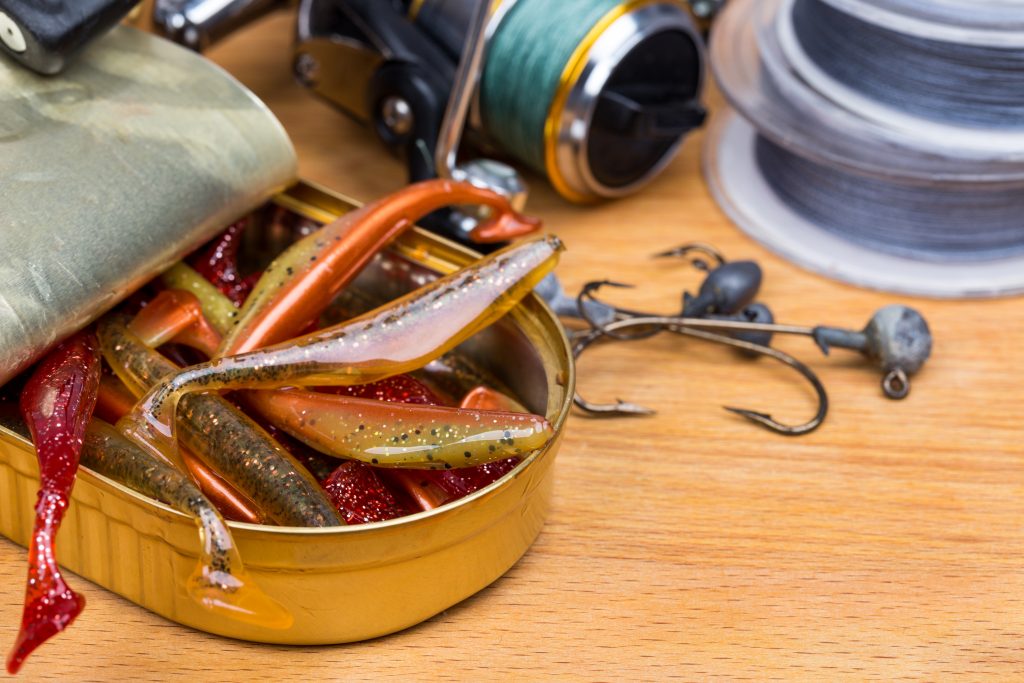 Best Rods and Reels
Like anything in the sporting world, there are a large variety of swim baits by type accessories. Everything from additional hooks to replacement paddle tails are available. However, the most important are swimbait jigheads.
Phenix Swimbait
Swimbait jig heads are the head and hook used to thread soft baits. Jig heads like the Phenix Vengeance 3-D Eye Swimbait Lead Heads offer quality reproductions and movements at a reasonable price.
Buckeye Lures
That's important in swimbait jigheads, because nothing is worse than spending a lot on a lure that might get taken. Lures like the Buckeye Lures J-Will provide everything without risking a bank breaking loss.
For those planning on using a lot of swimbait, getting a couple good swimbait rods is important. Since the bait is designed to mimic movement, the right type of action – medium with good feel and control – is necessary.
Genesis Rods
Rods like the Genesis II Cast Rod 7'8" Jr. Swimbait Med Heavy, is made to give that type of fine control while maintaining solid movement and action. Pair that rod with the right swimbait reels, and the bass will swim right into the boat.
Daiwa Reels
For example, the Daiwa Millionaire-S Reel has a free-floating spool for maximum spool freedom and longer easier casting, is anodized to resist corrosion, boasts a rigid, one-piece aluminum frame and combines all of this with a lightweight aluminum alloy spool.
Okuma Citrix Casting Reel
If that's not the right style, look into an Okuma Citrix 364 Series casting reel. While this upgrade costs more, it is worth every penny in terms of performance, comfort, ease of use, and trophy bass caught.
Shimano Calcutta Reel
At the top of the list are the Shimano Calcutta B Series casting reels. Like everything Shimano makes, these reels are top quality and make the user wonder how any other reel ever worked. Just be prepared to pay a Shimano price.
Price isn't everything, but it is certainly something!
Here at the Rusty Angler we believe in fishing giveaways, fishing sweepstakes, and fishing promotions. While a fishing giveaway might land some free swag, fishing sweeps are a great way to enter competitions for extra gear.
That being said, one of the best areas to investigate is the world of fishing promotions. Companies have fishing promotions all the time specifically to attract new buyers or to highlight new products.
Why is that important? Well, that means gear at either greatly reduced prices or even free.
On another note, a good fishing contest allows anglers to win free gear just by doing what is already being done – catching fish.
So grab some gear, grab a bow, and grab a great Rusty Angler deal. Those fish are out there and they sure aren't going to catch themselves. Happy swimbait fishing, and we hope you enjoyed Swim Baits by Type!