Tournament Scale – Without One There is No Winning One
Everyone likes to talk about the fish they caught. Photos abound on the web and every serious angler has a story about the huge fish they caught and released. But stories are just that, stories. There's a reason they're called "fish tales." Pictures don't count without proof. There are several world record catches that were unverifiable because the person in the photo lacked the basic fishing tournament scales.
When it comes to measuring and weighing catches, there are scales, and then there are correct fishing tournament scales. A tournament scale is legal for recording and verifying catches in the largest tournaments around, and that means anglers need one to win one.
The Best Fishing Tournament Scales – A Weighty Matter
Sure, any angler can go out with a 7-dollar basic fish scale. It will take a reasonable measurement and be completely useless for anything more than suspect bragging rights.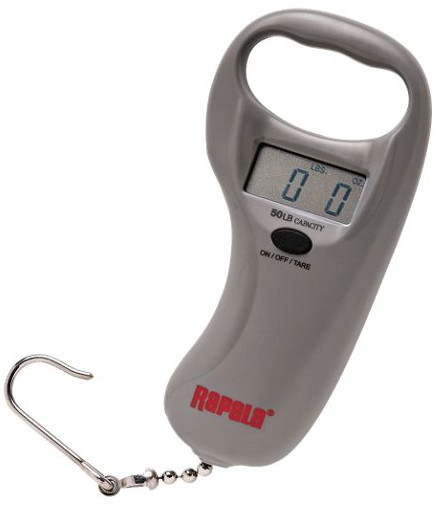 Still, scales such as the Rapala Tube Scales, are great to teach about weighing fish and the need to be accurate. Another good beginner scale is the Field & Stream Small Digital Scale, and, at about 20 dollars each, they won't break the bank.
For the serious fisher, and anyone competing in a fishing tournament, a professional tournament scale is needed. Unfortunately, they cost a bit more than seven 7 dollars and change. For the best scales, look into these top performers.
SL-3700 fishing tournament scale system (image shown at very top of article)
The best of the best, this low profile economy platform scale is a competition standard throughout the country. And at nearly a $1,000 it better be. The SL-3700 are accurate up to 50 pounds and can operate on an AC charge or via a rechargeable battery.
For a permanent application, these scales can be floor-mounted and have a wall-mounted LCD display. When the best is needed, these are the scales to get.
WeighMaster tournament scale
Another platform scale, this rugged and reliable scale is good for anything up to 60 pounds. Also portable, this stainless steel scale can take anything thrown onto its surface making it great for a boat mount.
In addition, the weight lock feature means accurate recordings of every fish every time. Coming in at just under six hundred dollars, it is also significantly less expensive than the SL-3700.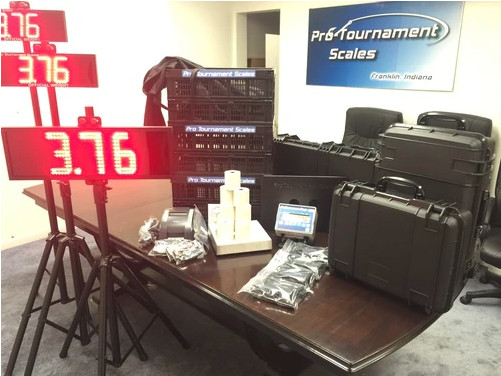 Looking for the ULTIMATE Tournament Scale System? 
Look no further than the H2 Ultimate Pro Tournament Fishing Scale. Tournamentscales.com says, "The dual harmonic filtering allows the H2 to lock onto the weight of a thrashing fish within 5 seconds, every time! Be prepared this season and run the most efficient trail to date." Check out the image and go there for pricing.
Rapala Sportsman's Digital Fishing Scale
A good starter scale, this basic but reliable scale will measure any fish up to 50 pounds. A large display is ready for photos, and it is a great scale for those just starting to weigh their catches.
This is a good scale for those who want to accurately, but not officially, weight their catches in a tournament to keep their tally going. In competition, final tallies still need to be done on the official tournament scales.
Rapala Digital Scale and Fish Gripper
This deluxe, digital scale is upgraded from the Sportsman's model. Stainless steel construction makes it usable in both fresh and saltwater environments. A large, picture-ready, digital readout can be configured in either pounds or kilograms.
This rust resistant scale runs 600 hours on 2 AAA batteries, thanks in part to the 2 minute auto shut-off. And don't underestimate the usefulness of the wrist lanyard to keep it in the boat.
More Than Scales – Culling Beams and Measurers
Serious anglers know they need more than just scales for a catch. Length and girth are important, and in a tournament where only the best fish can be kept, there's nothing like a culling beam to ensure perfection.
The Bass Pro Shops XPS Tournament Fish Culling Beam is a great example of the latter. When ounces matter, a culling beam allows the serious angler to check which fish is heavier than the other.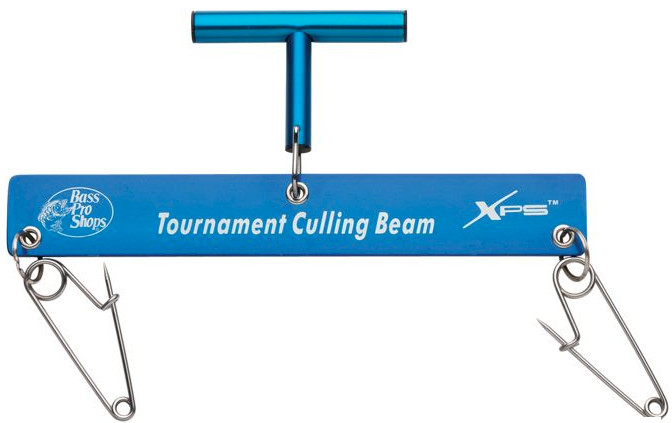 Think of the Scales of Justice, except this scale is hooked to the gills and the larger fish sinks into the live well while the smaller one is released to safety.
The Frabill Crappie E-Z Check'R is a simple way of measuring crappie to ensure they are within the legal limits. Just slide the fish head first into the holder and know if the fish is good to go home or back into the water.
For any competitor, a tourney weigh bag is a necessity. These bags keep fish alive while the angler is awaiting his turn at the scales. Since a dead fish has four ounces deducted from its weight, having a tourney weigh bag is not only environmentally sound, it is economically necessary.
Finally, a good gripper is worth the investment. The Rapala 6" Floating Fish Gripper allows the fisherman to bring in the catch with one hand, check it, and quickly release it if so desired.
Sturdy, corrosion resistant, and reliable, this should be in every serious angler's kit. NBot to mention, it floats. Just in case someone loses their grip.
Necessary But Not Necessarily Expensive
Every competitor wants to make sure their measurements are legitimate and acceptable by the event organizers. But pro scales are expensive. Have no fear, the Rusty Angler is here with help.
Like many competitions, the more involved, the higher quality, the more that equipment costs. A baseball  player can get a decent baseball glove for $30, or a professional MLB glove for $600. The same is true in angling. Fishing tournament scales are one of a few types of gear you'll need to win that prize! Choose wisely.
However, needing good gear doesn't mean needing a second mortgage on the house. While Rusty Angler's fishing giveaways might land you some free swag, we recommend looking for good fishing promotions on the Internet, too. We love giving our reader's the best information, like finding out if a monthly fishing subscription box is really worth the money.
Tournaments are a huge business. That means there's a lot of competition for competitors' money. While competition may mean bad news for the fish, it can mean good prices for the fishermen. Check out your options for the best fishing tournament scales and gear.
Companies have fishing promotions all the time to attract new buyers. In addition, there are fishing sweeps and fishing contests where a simple on-line form can result in a boat load of free fishing gear. Who knows, the next $800 tournament scale might just cost nothing! Come back each week for more expert fishing tips from Rusty Angler.