Fishing License Age – Teens Beware
Most states in the US require some form of fishing license. This can vary from specific location fishing to specific fish, to a general, all-purpose license. Think of it as being 007 for anglers. You now have a license to kill. Or at least, to catch fish.
However, one piece of information holds true everywhere–If you need a license and don't have one, the fines are steep. So check whatever state the fishing will take place in and make sure the licenses are purchased beforehand.
Buying a fishing license is quick, easy, and all of the money goes directly to conservation efforts in that specific state. In most states, a license can be purchased online or at a variety of retailers.
In most states the fishing license age is 16, although some are required at 18. So make sure to check the laws before heading out with the kids. In addition, many states do not require a license for those over the age of 65.
So, if the fisher is between 16 and 65, chances are they meet the fishing license age and should go get one. For parents, getting a child their first license can be a great "coming of age" experience and one to help teach conservationism as well.
 Licenses vs. Permits – What to Get and Why
One of the primary confusions in many areas are the differences between permits and licenses. This is especially confusing in areas with both fresh and saltwater fish as well as commercial fisheries.
Fishing Licenses are required for:
Anyone of meeting age requirements, regardless of whether or not you catch anything. Even if the angler comes up empty handed or practices catch and release, a license is still required. As soon as that line hits the water, a license is needed.
Public waters. Any fishing done on public land requires a license.
Private property fed by public waters. If the private lake or stream is fed by public rivers or streams, then a license is required.
If the private pond is stocked by the state.
Private land owners do not need a license if they are fishing on their own land. However, visitors to that land require a license.
A fishing permit is required for specific types of fishing or specific types of fish. Very often, those taking part in sport fishing like marlin, for example, need fishing permits. The permit allows a certain type and amount of catches.
In addition, coastal areas may require separate permits and licenses for saltwater and freshwater fishing.
Where to Get A Fishing License – Online or Nearby
Most states have internet capabilities that allow an angler to purchase a fishing license online. It is the easiest and fastest way to do so. Still, for those who prefer to buy a fishing license in person, there are many options.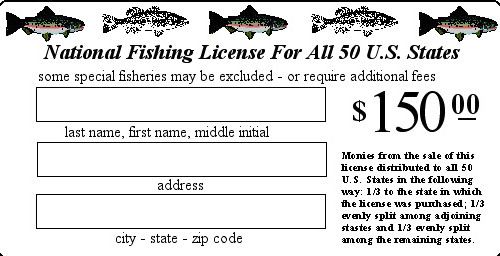 Most states have online resources telling consumers where to get a fishing license. Just about any sporting goods store can issue a license, and most state offices have a licensing branch for in-person purchases.
For those asking, "where do I get a fishing license near me," the answer is simple. Try WalMart. Just about every one of the retail giant's stores can issue both fishing and hunting permits on site.
State By State – Some of The Bigger Ones
Every state has their own rules, but a few states in particular are worth noting, either because their laws are unique or because they are primary fishing states.
Arkansas fishing license – One of the cheapest states around, Arkansas fishers can get 3-day or full-season licenses. There are also specific permits for trout, alligator, and other water species.
Florida fishing license – With the wide variety of sport and recreational fishing in Florida, getting a license is paramount. Make sure to check for the type of fish being sought as well as the time limit of the license.

Because of the large tourism population in Florida, there are many different types of saltwater, fresh water, visitor, and resident licenses and permits.

Fishing license in Georgia – Licensing here is pretty standard, however, the law recently changed so make sure the license someone currently has is still valid.
Fishing license in Louisiana – Interestingly, Louisiana licenses cover not only fishing but frog gigging, fishing with scuba gear, and bow fishing.
Texas fishing license – In Texas they say everything is bigger, including the licenses. There are salt and fresh water, combined, and hunting licenses.
Fishing license in Wisconsin – Known for year-round fishing, Wisconsin offers licenses for residents as well as tourists, and all active-duty military personnel can fish without a license.
Illinois Lifetime License – Illinois is one of the states that offers a lifetime combined fishing and hunting license. So if the money is there up front, and the angler is planning on staying in the state, this can be a tremendous bargain.
A License to Fish, A License For Free Fishing Gear
Now that everyone is licensed and legal, it is time to grab the right gear and the right kits. The big question is, why pay for them?
Rusty Angler believes in fishing giveaways, fishing sweepstakes, and fishing promotions. While a fishing giveaway might land some free swag, fishing sweeps are a great way to enter competitions for extra gear.
That being said, one of the best areas to investigate is the world of fishing promotions. Companies have fishing promotions all the time specifically to attract new buyers or to highlight new products.
Often, companies will offer free gear by having the angler use a fishing promo code when ordering new equipment. Why is that important? Well, that means gear at either greatly reduced prices or even free.
On another note, a good fishing giveaway allows anglers to win free gear just by doing what is already being done – going online and looking at equipment. Just fill out the questionnaire and reel in the savings.
So get the gear, get the license, and get ready to fish.