Best Family Fishing Vacation Spots in the USA
Fishing with family and children is one of the most enjoyable ways to spend a summer afternoon. The peacefulness of a shoreline buzzing with dragonflies instead of cell phones is a panacea for the stress of our times. So why limit it to just one day? Why not make an entire family vacation out of it? With the variety of fishing options in the United States, there are hundreds of great family fishing vacations to be had.
However, hundreds may be too many for the average vacationer, so here at the Rusty Angler we've trimmed that list down to showcase some of the best family fishing vacation spots in the USA.
From coast to coast and north to south there's something for everyone. Presented in no particular order, then, here are fishing vacations that will satisfy everyone in the family.
East Coast, West Coast, There's no Beef With These Fish
The rivalries may be high between the coasts, but fish don't care where that angler's from as long as the bait is correct.
With crystal clear lakes bordered by snow-capped mountains, it's hard to find a more picturesque fishing paradise than Mammoth Lakes, California. Rent a cabin on one of the dozens of lakes in the area and prepare to be wowed.
Lake trout abound in this area, as do the river trout that team in rivers and streams feeding this water system. A sunrise cup of coffee overlooking the mountains before putting on waders and heading to the stream for wild trout.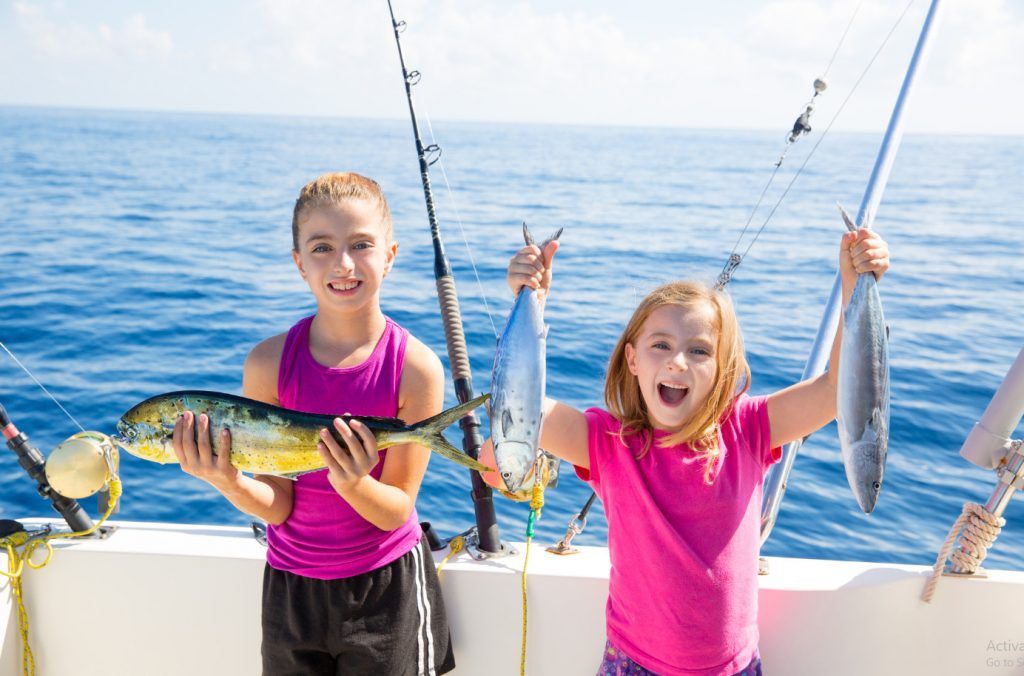 Bring that catch back to the campsite and sear it in a cast iron skillet over an open fire. What family wouldn't fall in love with that scene?
If snowy mountains don't sound good, there's always New York.
Just a few hours north of the famous sky scrapers and the Statue of Liberty – who has a fishing pole under those robes! –  is the Niagara River, New York. While a trip here wouldn't be complete without visiting the famous Falls, this area is also a fishing heaven.
Smallmouth bass, muskies, and walleyes are all present in large numbers during the summer months. There's also extensive camping, hiking, and biking trails to round out the trip.
West and East – Nothing's Better Than Fishing Vacations
Back on the Northern west coast, Kenai Peninsula, Alaska is one of the places to go for a once in a lifetime family vacation. Teaming with professional guides and vacation tours, it's hard to not find a fantastic trip in this part of the USA.
The only thing more plentiful than helpful guides are the giant halibut, huge salmon, rainbow trout, and other sport fish that will bring a year-long smile to the face of any angler.
Go to the opposite Southern tip of our country and find a place in Everglades City and 10,000 Islands in Florida.
Snapper, sheepshead, tarpon, snook, saltwater fish, freshwater fish, sport fish, panfish, the list goes on. Not to mention the wildlife tourism of everything from alligators to egrets. This place simply has it all when it comes to family gatherings.
Finish the trip with an Everglades airboat trip from the rented waterfront cabin and it has all the makings for a vacation the family will talk about for years. Orlando may have Mickey, but the Everglades have grouper and shark.
Southern Hospitality – The Best Family Fishing Vacation Spots in the USA
Lake Pymatuning, Pennsylvania has majestic rivers and lakes overflowing with bluegills, bass, walleyes and crappies. It's a beautiful area and a must visit for a weekend getaway. However, any angler serious enough to consider a family fishing trip knows it's hard to get better fishing than down south.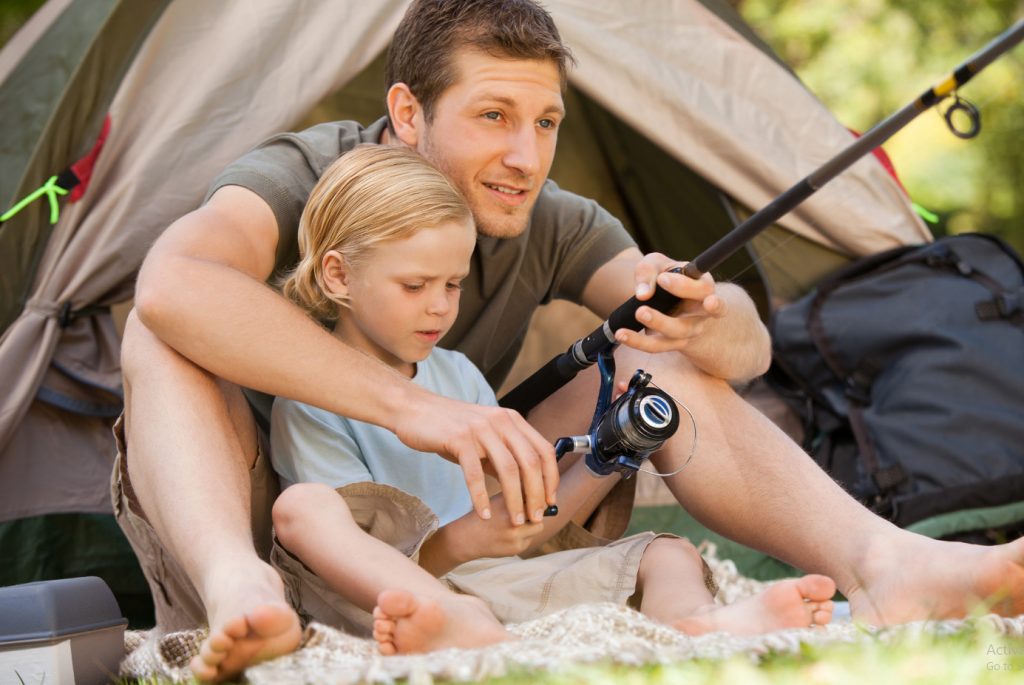 Port Isabel, Texas is in the deep southern part of the state, meaning there's access to trout and redfish as well as any number of deep sea charters. Arms tired from reeling in that blue marlin or sailfish? Take a break with a dolphin cruise or a day at South Padre Island.
Start heading north and make it to White River, Arkansas to catch one of the million trout that are stocked there, and caught there, each year. From small panfish trout to large river monsters, this is the place to go for a full day of fishing and a full belly of trout.
Head northeast from there to Lake Reelfoot, Tennessee, and bask in a volcanic lake that teems with all the fish anyone could want. With the volcanic formation, the fish are firmly held in the lake while the soil provides excellent vegetation and bait.
Blue gills, crappies, huge largemouth bass, and some of the biggest catfish around will keep any family of fishers busy for days. Grab a cabin, a boat rental, and head on out into fishing nirvana.
Finally, keep heading north, may up north, and answer the call of the Black Hills, South Dakota.
Streams and rivers that are filled with fat-bellied trout are rivaled by the majesty of Custer State Park. Breathtaking views and unparalleled fishing make this one of the must go to stops on any family fishing tour.
Check out our best fishing spots in the USA here, too! If you're considering a fishing trip to Alaska, you'll want to read our inside tips.
Fishing Vacations Don't Mean Bankruptcy
All of these trips may sound exciting, but they also might sound expensive. Not so fast.
Anyone familiar with the Rusty Angler knows we try our best to find free fishing gear, fishing giveaways, fishing sweepstakes, and any number of good fishing contests to keep the smart angler in the black.
Many vacation sites offer a fishing promotion code for discounts, especially during the start or tail end of the season. In addition, fishing sweeps will often offer a getaway as one of the large prizes being offered.
If that doesn't work, check sites and magazines for the vacation spot's best fishing giveaway. Many vacation areas have giveaways or severely discounted specials for first time visitors.
They know that a first visit is often followed by a second and a third, especially if the whole family is involved and having fun. So don't be ashamed or afraid to ask about specials and giveaways.
There are amazing fishing vacations in the USA to choose from for your family. It's been earned. Practice Catch and Relax!