There are few trips in fishing more iconic than an Alaskan fishing tour. Aside from the majestic views, wide-open waters, mountain ranges, and varied wildlife, Alaska has some of the best fishing on the planet. With more than two dozen target fish species, rivers, lakes, and separate saltwater destinations, fishing trips to Alaska are simply unmatched.
However, unless you already live in Alaska, chances are you don't know where to begin or how to find the best trips that also won't break your budget. So let's look at some of the best fish and trips there are. Welcome to Alaska fishing!
Alaska Salmon Runs
No fishing trip to Alaska would be complete without experiencing a salmon run. Imagine standing thigh-deep in the cold-flowing Kenai River, flossing the top of the water with your line as majestic King Salmon and Sockeye Salmon eye your bait.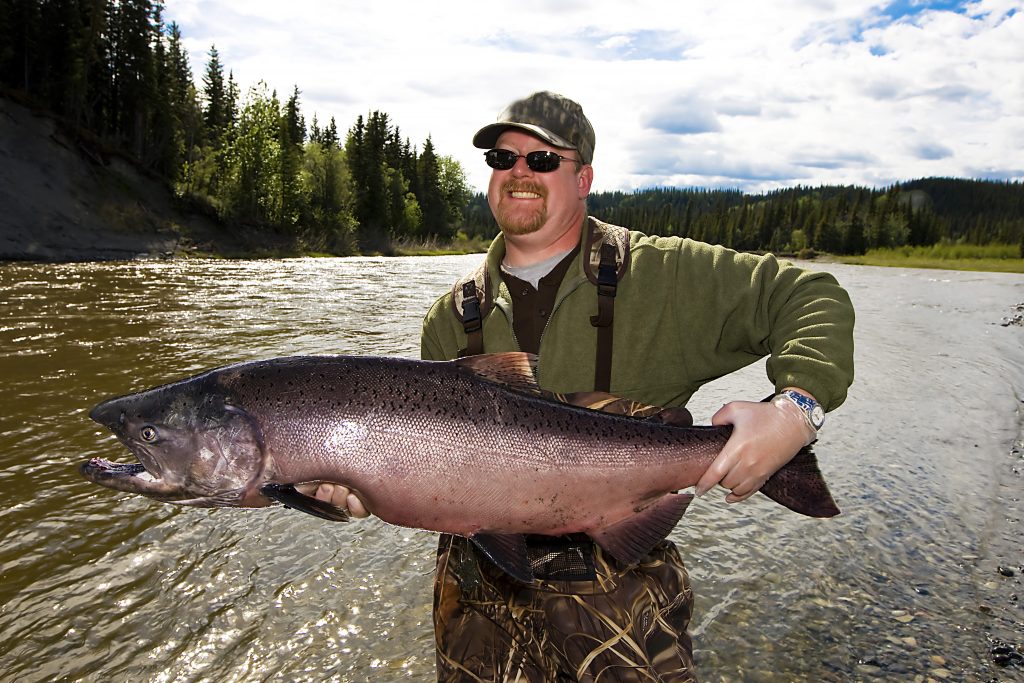 You have your King Salmon tag – remember this fish requires an additional tag – and you watch the brightly-colored fly float down the river. The current is moving, but your line stops. That's it! You set the hook, pull back, and hang on for the ride of your life as you reel in a King Salmon fit for a king.
Alaska fly fishing trips should begin with the Kenai River. Not only is this where the prized King Salmon swim, staying mostly to the deep waters, it is also where you will find Sockeye Salmon on the river banks, and, in some parts, Pink  and Silver Salmon as well. But let's be honest, if you're going to Alaska, you want King and Sockeye.
Alaska salmon fishing is, quite simply, unmatched anywhere else in the world, and nothing says Alaska like the majestic King Salmon. After all, they are called Kings for a reason.
The most prized fish in North America, Kings are also, unfortunately, one of the most difficult to catch. They swim in the deepest part of the river, which means right down the center. Try fishing an hour or two right before and after tidal changes, with flies at low tide and lures at high tide.
If you're fly fishing for Kings, use large, bright flies. Cast into the current and wait. Kings are known for biting very softly, so if you think there's one on the line, set the hook and go.
Alaskan Salmon Fishing, not just for the King
While King salmon may be the most prized fish, there are plenty of other species that are fun to catch. Red salmon, or Sockeye, are on of the most popular Alaskan salmon. Found throughout the state, these feisty fish swim close to shore making them ideal for riverbank anglers. Try Alaska fly fishing. You'll be glad you did.
Like Kings, these make some of the best Alaskan fishing and are not aggressive. Floss your line in the water – lay it out generously, low in the water, and let the current take it – and wait for the Red to pick up the line in its mouth. Then set the hook and you're good to go.
In the smaller rivers you can find Pink Salmon, Silver, Salmon, and Chum Salmon. Just because these aren't Kings doesn't mean they don't belong on your Alaskan fishing tour. These species sit in clear water or just on the edge of clear water, where small streams intersect with larger, murky streams.
Since they prefer these clear areas, look for places where the water is slow moving. You'll find them around rocks and trees, as well as where the river bends. These species spook easily, so you dark-colored flies to keep them at ease.
Of course, you can't talk about rivers without mentioning Alaska trout. Specifically, Rainbow trout. In Alaska, these aren't your normal river trout. No, here they swim up river, lounge, and fatten up on salmon eggs.
This means you can find Alaskan rainbow trout that are 35-inches long, 20 pounds, and sport a 19-inch girth. Talk about a trophy fish! These beautiful fish will challenge even the most experienced angler and give you an experience you'll remember forever.
Guided Fishing Trips in Alaska – Experience Matters
Sure you can book a flight, hotel, rent gear, and head into the wilds of Alaska on your own. However, if you want to ensure a good trip, think about an Alaska fishing charter or an Alaskan fishing camp. These are the pros who have been doing this for generations and they know how to ensure you have the trip of a lifetime.
Now I know you're thinking, "but what about the cost? Those professionals are going to charge professional rates."
This is true. However, a fishing vacation should be just that, a vacation. In addition, like most services when you purchase them together you can save a lot of money. Many of the charter groups, and especially the fishing camps, bundle hotel, gear, guide, and transportation together and in bulk. That translates into a lower price than booking them all yourself.
With side excursions and specialty trips, the bigger question is why you wouldn't want to book a charter? Sure you can go to the Kenai River on your own, but do you know the best part of the river to find Red salmon during the spring instead of King salmon during the summer? No? Me neither.
How about the best part of Alaska to visit if you want to fish for salmon, trout, and do some saltwater fishing for Halibut as well? I don't, but there are several companies that offer excursions specifically for that experience. If you're going to do this, do it right and ensure you get the experience you're looking for.
Look for the best prices, and don't underestimate the power of the internet. Sites like this often offer fishing giveaways and fishing promotions that can dramatically cut costs. Heck, if you're feeling especially lucky, you can enter any of a number of fishing sweepstakes and turn that balance line into a zero. Now what's not to like about that?
Finally, when you are looking at charters, check for specials and promotions. Often during slow seasons costs are dramatically lower. In addition, many places offer first-time guest promotions to entice new business.
Experience the best vacation you've ever had with the greatest fishing trips to Alaska. It may be fishing Nirvana, but it doesn't have to break the bank. That's a good thing, too, because once you go there you're likely to, ahem, get hooked.