Peacock Bass Fishing Trips in Florida and Fishing Lures
The first thing that needs to be known about peacock bass is that they are, in fact, not bass. The bass peacock is an invasive species of fish from the Amazon that has no place in North America. What that means for anglers is that traditional bass fishing techniques won't work on these aggressive fighters, and peacock bass fishing lures are going to be significantly different than traditional bass lures.
For example, peacock bass don't like plastic worms. That's because these are predatory fish that feed almost exclusively on smaller bait fish.
In addition, because they are an invasive species fishermen can catch as much as they like and are dong the local environment a favor by doing so. Since peacock fishing is fun and exciting, this becomes a win for everyone.
Peacock Fishing – Time to strut that stuff
Peacock bass are notoriously tough, aggressive fighters. Hook an eight pound peacock and it will feel like something ten times heavier. Because of this, they have become a favorite of sport anglers everywhere.
Florida bass fishing guides will take those looking for these action stars to the Miami and Dade County areas where these fish are abundant. Since they can't survive in salt water, the fish are trapped in the canals that crisscross this part of the state.
Even those taking part in large mouth bass fishing trips to make some time to go after the South Florida peacock bass. These are feisty fish that are fun to catch and great to eat. They are a primary food source in their native Amazon basin.
These fish are one of the most action packed sport fish out there. There's a reason Peacock Bass Fishing Trips in Florida bring in more than $8 million a year in tourist revenue to Miami alone.
In particular, the butterfly peacock – intentionally introduced into the Dade and Broward County areas of Florida in 1984 – is a favorite of sport fishermen.
Peacock Bass Fishing Lures – The right gear for the right fish
Because peacock bass are not bass, and because of their fighting prowess and strength, having the right gear is crucial to landing one of these prize fighters.
A key required element for peacock fishing is having a reel with a fast retrieve. Light spinning tackle works best. Without that, there won't be enough speed for the lure to have the right action.
Light lines and tippets should be used whenever possible. Again, these are aggressive fish that are ardent hunters. Make sure the action on the line is quick and enticing for the hunter.
Lures for peacock bass should imitate bait fish. Think of lures like minnow imitating crankbaits, fast moving jerk baits, and top water lures without propellers.
For gear and tackle, make sure casting or spinning tackle can handle crankbaits and spoons in quick, aggressive patterns. As fast as the angler can reel and move that bait, the peacock bass is faster.
Peacock Bass Fishing Trips in Florida – What to catch with bass and how
Peacock bass fishing is at its best in the pre-spawn stage. At that time peacock fish have a nearly endless appetite, and baitfish are in abundance. Peacock bass are daytime feeders, rarely coming out at night for a meal. Target shaded areas in the middle of the day for results.
Commercial fishing trips are plentiful and inexpensive, and with prime fishing giveaways and fishing promotions, many can be had at little to no cost. Florida fishing sweepstakes are also a common way of getting a great trip on the cheap.
Once in the Miami-Dade area, know what to do and who to seek out for help. There are plenty of guides who will help tourists, for a small fee, find the best fishing spots.
Tips for successful peacock bass fishing trips in Florida:
Peacock bass are schooling fish, so if there is one in the area, there is bound to be others. Unfortunately, they can be a bit skittish, and the commotion of catching one may scare off the rest of the school.
When there is a fish on one line, have other anglers cast their bait near the hooked fish. Often a butterfly peacock or two will follow along and may strike as well.
Do not give up if a bass strikes but fails to catch on. Peacock bass will strike again, and again, and again. Remember, they are aggressive hunters. Just maintain the retrieve. This is especially true for topwater lures. If the peacock does not strike again, quickly change to a crankbait and the strike will come.
Do not set the hook too quickly. Peacock bass will often strike to stun before striking to eat. Be prepared for a pause and a second hit.
Casting is the most popular way to catching these fish, but trolling is also an effective method. This is especially true in larger, open, clear water ways. Use a 4-5 inch heavy body spoon for best results.
Once the hit comes, hold on tight and be ready to fight! A peacock bass can strike hard, fast, and out of nowhere. Keep a firm grip on the rod or it could be lost. Keep away from structures with a sideways angle to avoid line breakage.
Get away with a giveaway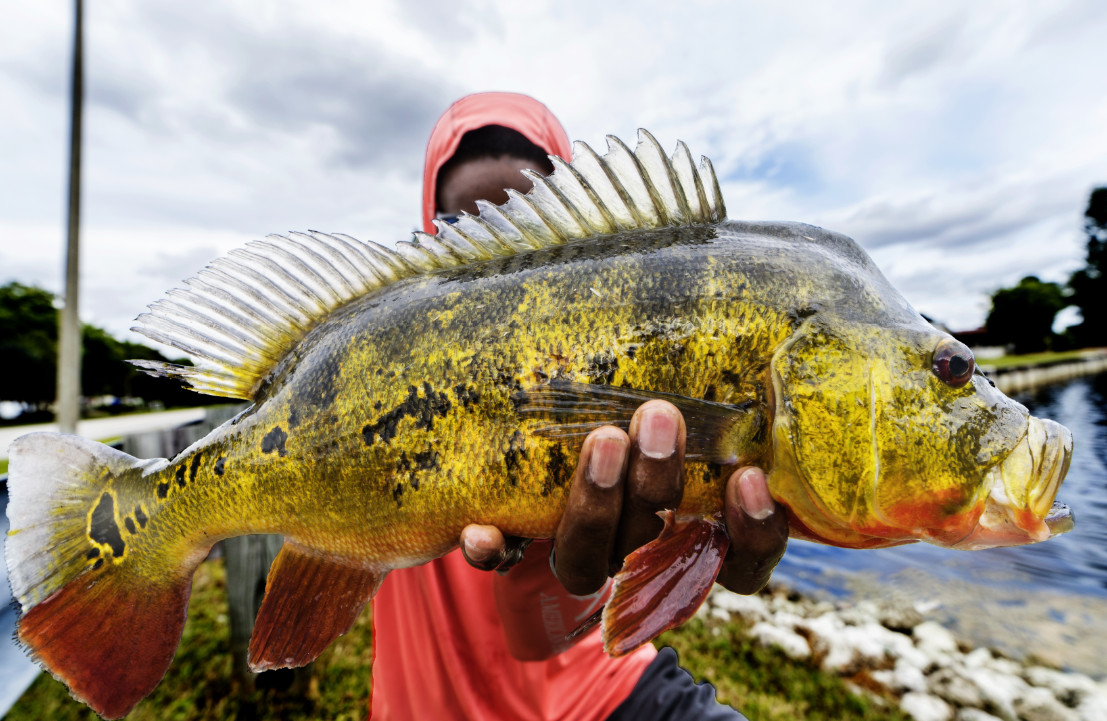 Peacock bass fishing is fun, exciting, and a great way to spend some time in the Florida sun. However new experiences can often come with new balances on that credit card.
Instead, look for a good fishing giveaway of fishing contest to win free swag or even free trips to the sunny south. Fishing sweeps are plentiful on sites like the Rusty Angler, and can be a great way to experience new fishing thrills without breaking the budget.
So grab some great gear, get a good set of minnow lures and crankbaits, and head to Miami for some outstanding fishing and some tremendous fun. We've got some great fishing tips about crappie lures, too. Enjoy the water and happy fishing friends.