Tarpon Fishing Charters
In the world of game fish there are many hard fighting, energetic, and exciting catches. But only one is known as the King. Tarpon.
For serious anglers, tarpon fishing is a bucket-list activity. Anglers will travel around the globe to descend on tarpon fishing spots and a chance to test their skills against one of the most formidable game fish.
Tarpon fish are hard fighting, acrobatic, and challenging for any angler. A full grown tarpon can measure eight feet in length and weigh nearly 400 pounds.
Add to this a thickly muscled body, upturned bony jaw, and sharp, angled fins and it's easy to see why tarpon anglers travel from thousands of miles away in pursuit of these incredible pre-historic fish.
Where To Fish For Tarpon
Tarpon are abundant throughout the Gulf Coast, from Boca Grande, FL – the "Big Mouth" – to Carabelle, FL, and Islamarada FL to Key West. However few can compete for sheer tarpon splendor than the aptly-named Tarpon Springs, FL.
While anglers can find a variety of deep-sea charters heading into the Gulf of Mexico for red snapper, shark, and sea bass, Tarpon Springs offers specific options for these oceanic heavyweight fighters.
However, in comparison to other Florida tarpon fishing charters, the area around Tarpon Springs is inexpensive, a little out of the way, and perfect for those looking to escape some of the tourist areas and descend into simple fishing glory.
With small towns like Brooksville, Weeki Wachee, and Homosassa within a quick car ride distance, there are plenty of decent restaurants and hotels as well as camp grounds. However, outside the bustle of Tampa or Miami, the fishing here becomes serious. They may be laid back in these rural spots, but they take their tarpon fishing seriously!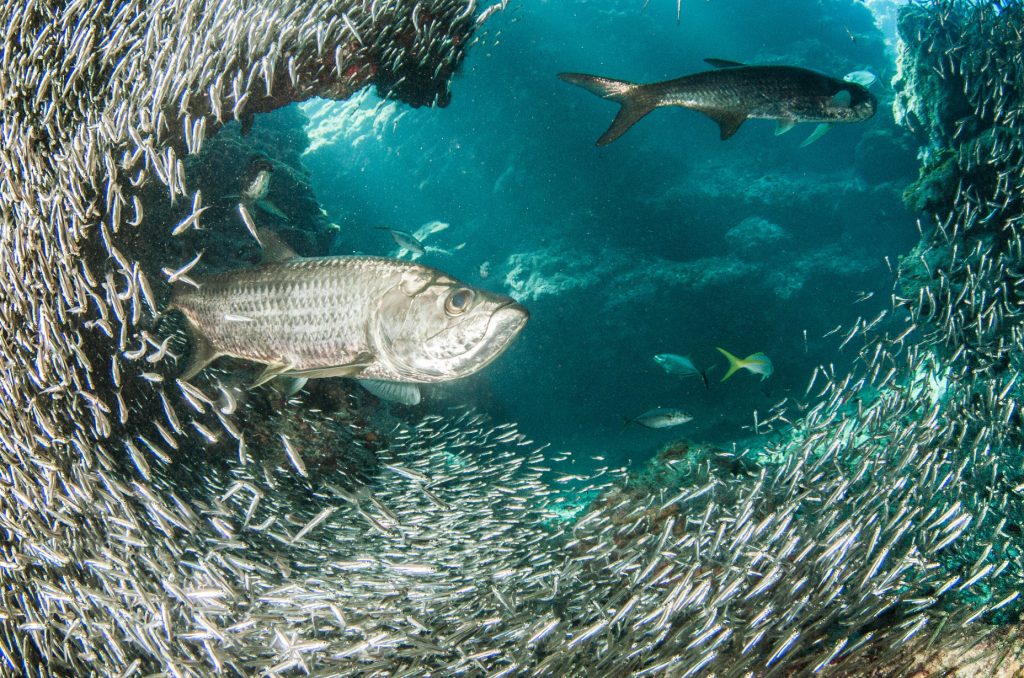 Catching Tarpon – Catch and Release, or Pay The Price
There are a variety of methods used to fish for tarpons such as bait, lure, and fly on spinning. However, if the usual isn't on the day's agenda, try flats-fishing with a fly rod.
Think of it like hunting elk with a .22 caliber rifle.
A normal tarpon fly rod outfit uses 10 weight rods and reels spooled with light line and a class leader tippet of 20 lbs. Now remember the tarpon may weigh ten-times or more than the breaking strength of the leader.
This type of fishing requires a good tarpon fishing guide who knows the flats and how to intercept these speedy predators. With such fast-paced prey, a talented angler may have no more than a few seconds to spool-out and cast.
If the tarpon takes the fly, they jump all 180 pounds out of the water and the fight is on. Long runs, spectacular jumps, and a stubbornness that won't quick make these some of the best fish to land. Just be ready, as it usually takes anywhere from one to three hours to land an adult tarpon.
As the flesh of tarpon is not good, most fishing in the Gulf is catch and release. However, some anglers prefer to keep one trophy fish to take home. Just be ready to pay for that fish as the State requires a special license to do so.
Tarpon Tricks and Tips
As in all types of fishing, different anglers swear by different techniques. When it comes to finding good tips for catching tarpon, though, there are a few that stand out.
Use live mullet for bait: This is a tried and true Florida method that most natives go back to when having a frustrating day of jumping tarpon with nothing brought to the boat. This is so common, many tarpon fishermen talk about the number of jumps they get in a day instead of the number actually caught.
Wait to set the hook: Tarpon have jaws like cement and it can take a special finesse to set a hook. Wait until absolutely sure the bait has been taking before pulling the set.
Let the tarpon run: To ensure the bait is taken and the fish is ready to fight, let the line run a bit before pulling it tight. Tarpon are aggressive but the hook won't bite unless there's enough line.
Sand is an angler's friend: Tarpon like sand bars, drop offs, and other areas where the water levels change abruptly. That allows the fisher to get a good sight line on the tarpon before casting.
Finally, make sure the tackle is ready to handle these voracious monsters before setting out. The tarpon world record is a whopping 285 pound beast. For many anglers that's enough to pull them right off the boat.
Free Fishing Friday: If it's free, it's for me
Tarpon fishing is a big enough industry that savvy shoppers can find all sorts of deals and fishing giveaways.
Some charters will supply free fishing gear for those who book a long enough trip. Others will provide free licensing to take home that trophy sized king. There are also fishing sweepstakes found throughout the internet for weekend getaways and more.
Free fishing giveaways can be found from local restaurants and even theme parks as a way of enticing tourists to the sun coast of Florida. Orlando and Disney are only an hour drive from Tarpon Springs, and Tampa is even closer.
Florida fishing charters can be found at resorts, as can any number of gear giveaways, clothing giveaways, and more. Book online and some charter companies can provide theme park tickets for the family members that don't want to go out to sea.
Jumping online to a site like the Rusty Angler is a great way to find deals and more while prepping for that weekend, or week long, get away.
So grab one of the Florida Tarpon fishing guides and head to the warm waters of the Gulf. You won't be disappointed, and you may not ever want to come back.