Deep Jerkbait Rod – Going Deep Needs a Big Rod
Some of the most essential pieces of equipment for any bass angler are jerkbait lures.  These short-billed lures are prime targets for bass and any competent bassmaster knows that fact. Deep jerkbait are lesser known, but the true bass fish aficionado knows these are the lures to go to for mammoth bass. Top ranked Canadian angler Dave Chong, smallmouth ace Joe Balog, and Bassmaster Elite Champion Jonathon VanDam all recognize the value of deep jerkbait fishing for catching big water smallies.
Every fish has that sweet spot when aggression gets the best of them and they strike hard. Bass fishing for smallies can be frustrating at the most critical time, so it's good to know that smallmouth bass in particular go for deep jerkbait.
Deep Jerkbait Rod – Different strokes for different folks
Before looking at lures, it's important to decide on the right deep jerkbait rod. There are two types of jerkbait anglers: stiff rod fishermen and long rod fishermen. The first set use short, fast acting rods – about 6'10" down to 6'3″ – but with medium power and a fast actions. The reason for this set up is that the faster action rod is stiffer than a moderate action rod, thus allowing more control over the bait. Plus, the medium power offers enough forgiveness to fight and land a fish hooked on trebles.
The second set of jerkbait anglers use jerkbaits like they would a crankbait. They use longer rods with moderate or slow actions. These are 6'9″ to 7′ rods that provide the best fish fighting ability. The result is fewer lost fish than the first set of anglers. So the question becomes, what type of angler is gripping that stick? Is he aggressive with the jerkbait or more of a subtle twitch and wait angler? Luckily, whatever type of deep jerkbait fishing is taking place, Quantum has the right deep jerkbait rod. Enter the Quantum Tour Edition Rod.
Ranging in size and action to fit any style, the Quantum Tour Edition rods are hand constructed of graphite prototypes and built in small batches for only the elite prostaff members at Quantum. In addition, they are continually being refined by the pros to fit more and more exacting needs and specifications. Pair one of these with Bass Pro Shops XPS Fluorocarbon line and it's hard to go wrong.
Best Deep Jerkbait Fishing Lures – The Allure of a Lure
Now that the rod is taken care of, it's time to load it with the best lures on the market. Deep jerkbait fishing requires more movement than traditional jerkbaits, which means the options have been refined as this style of bass fishing has increased in popularity.
For example, the Bagley Balsa BanOLure Topwater Jerkbait is surprisingly good at deep fishing. Despite being a top water lure, Bagley works well deep and the motion is sure to attract some of the more finicky fish.
Not to be outdone, the Berkeley Cutter Shallow 90+ Rip Bait gives baitfish performance in deep water fishing. The movement and snappiness of the lure entice bass into more aggressive strikes.
This type of effective baitfish mimicry is employed by a variety of lures. Some of the best are the Duo Realis Minnow Jerkbait, Raid Level Minnow Jerkbait, and LIVETARGET Emerald Shiner Baitball Jerkbait.
For thinner profiles and more agile movements, it's hard to go wrong with Evergreen FA Jerkbaits or Ima Flit Jerkbaits.
If unsure or new to deep jerkbait fishing, consider a tried and true company like Rapala Lures. Rapala Jerkbait are considered some of the more versatile and reliable of all jerkbait brands. At less than ten bucks a pop, they are also affordable.
Still, when trying a particular style of fishing or looking for a particular fish, it is always worthwhile going with gear made specifically for that. KVD Deep Jerkbait has been specifically designed to be used deep.
Made by Strike King, the KVD Deep Jerkbait is a suspending bait that has found the ideal combination of roll, wiggle, and just a bit of flash. It has a weight transfer system making it easier to cast while maintaining maneuverability.
If these aren't enough, some additional bass jerkbait lure companies include: Megabass; Lucky Craft; Damiki, Duel, Storm, Spro, Smithwick, Livingston Lures, Duo Realis, Jackall and Rapala.
Deep fishing doesn't need deep pockets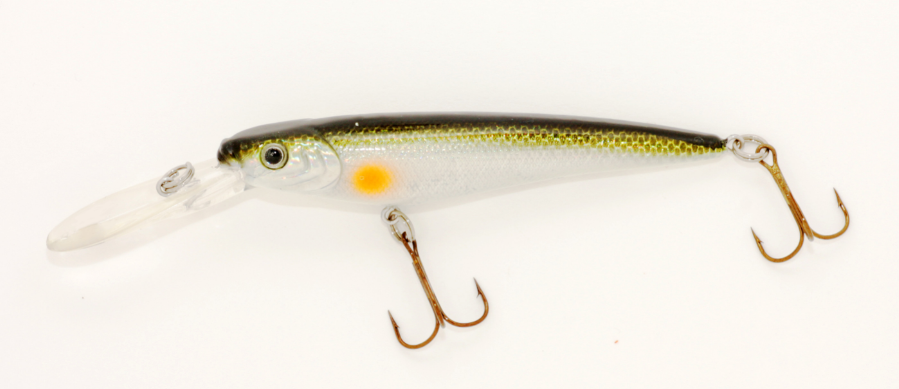 Deep fishing may be new to many, but that doesn't mean first timers need to spend a lot of money to try this exciting and effective form of bass fishing.
Rusty Angler believes in fishing giveaways, fishing sweepstakes, and fishing promotions. While a fishing giveaway might land some free swag, fishing sweeps are a great way to enter competitions for extra gear without spending a lot of time hunting that gear down.
Still, especially when looking for the newest, top of the line gear, one of the best areas to investigate is the world of fishing promotions. Companies have fishing promotions all the time specifically to attract new buyers or to highlight new products.
Why is that important? Well, with something just starting to take off, like deep jerkbait fishing, that means companies need to get their products out to the public. In addition, these companies know anglers are a loyal bunch. Hook an angler and they will be a customer for life.
All that loyalty means companies are willing to spend a little to get a lot. In addition, there are a variety of contests and sweeps that can lead to high end gear for free. A good fishing contest allows anglers to win free gear just by doing what is already being done – catching fish.
So enter that contest and grab a great Rusty Angler deal. Those fish are out there and they ready to be caught. All it takes is a little time.