Smallmouth Bass Lures
Smallmouth bass may have the word small in their name, but don't let that disguise their size or fight. These aggressive game fish can weigh 10 pounds or more and put up the fight of a much bigger catch. The smallmouth bass record is a whopping 11 pounds, 15 ounces, but unofficial accounts have smallmouth bass size reaching more than 12 pounds. When fishing for smallmouth bass, be ready for a day of stalking prey and fighting for the win. There's a reason these once ignored species have become an all-American gamefish pursuit.
Small mouth bass live in a wide range of environments and can be found throughout the continental United States. They can be found in rivers, streams, reservoirs and lakes. Knowing when to go to each location is a prime part of fishing for these beauties.
Once there, knowing the right bait for smallmouth bass is crucial to catch the big one.
Crankbait, Jigs and Smallies
The first thing to understand about lures for smallies is that even though smallmouth are indeed smaller than their cousins, they like a big meal just the same. Smallmouth will hit 6-inch worms and 5-inch stickbaits as easily as any large fish.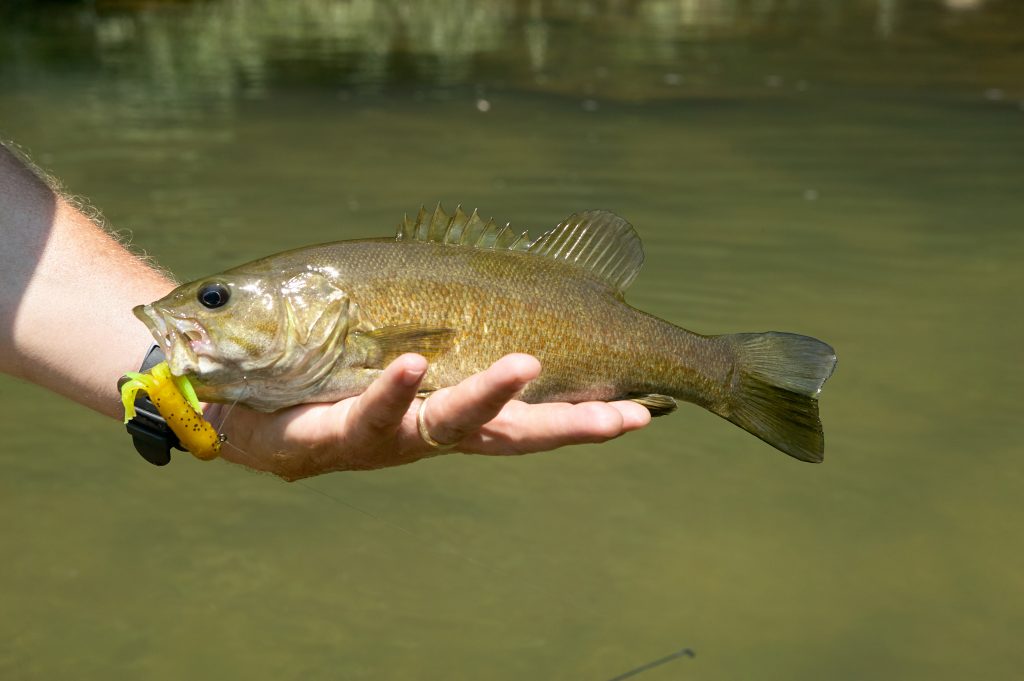 If river fishing, smallmouth bass flies should mimic the readily available bait fish and animals. Since topwater baits are not as efficient for these feisty fighters, look for something they can attack and chase.
Smallmouth bass lures such as a crankbait or jig will be much more productive. A half ounce smallmouth jig topped with bulky plastic craws will drive lake smallies wild.
Any soft plastic bait that imitates gobies is deadly for smallmouth, especially on northern lakes that are infested with that invasive species. Drop-shotting finesse worms or small, soft plastics imitates gobies, making them a top tactic for catching northern smallmouth.
The Best Lures to Land The Biggest Catch
Smallmouth are extremely aggressive fish, so try enticing them with active, moving bait that will bring out that killer instinct. The best way to do that? Think Ned, the bass can see red.
A Ned rig rod and reel is the most reliable bait. A Ned rig, for those unfamiliar with this lethal bait, is a small jighead with a straight, short, worm shaped piece of soft plastic.
A Ned rig can be made with any kind of soft plastic worm, however the official Ned rig uses a Z Man Zinker Z, which is molded specifically for a Ned rig.
Another top choice is the Heddon Spook. A 3-inch Super Spook has three hooks, giving this model more hooking power for hard charging species like smallies.
Anyone who is fishing for smallmouth bass has heard of square lip spinners. The first, and still reliable, of these was the Cordell Big O. Still a favorite among bass anglers, Cotton Cordell's million dollar seller brings in the bass with the best of them.
For spinnerbait, the Booyah Blade Spinnerbait is top notch. Inexpensive and easy to rig, these are a staple of the bass world. Reliable, proven, and sturdy, this is a must have for any serious bass angler.
When non-worm baits are called for, the YUM Craw Papi and Rapala X Rap Pop are two of the best. Both imitate local baitfish or crawfish well and have been a solid go-to bait when others are not producing.
Just remember, variety can be good. Nobody wants to eat the same meal every day, all day. Fish are no different. Having a good selection of lures will make fishing smallmouth bass a lot more enjoyable.
They Eat – We Eat
Speaking of eating, don't forget that eating smallmouth bass is one of the top reasons for catching them. Too often anglers get caught up in the sport of angling and forget that these fish are extremely tasty.
Anglers who take part in river smallmouth bass fishing seem to have a better understanding of this aspect. Especially if the fish are being cooked on a cast iron skillet over a nearby fire.
Just fillet the smallmouth, brush the pan with garlic butter, add a bit of wine to keep the fillets from sticking, and pan sear them on each side for about two minutes. Quick, easy, and delicious.
As long as the fish are biting, so are the fisherman and his family. This is especially good for kids. Nothing quite makes a child feel as good as catching a fish and watching the family enjoy it.
This helps teach reliance, appreciation in accomplishment, enjoyment of the outdoors, and an understanding of food and food sources. Not to mention it can be some of the most enjoyable family time anyone ever spends.
Fishing for Smallmouth Bass with Free Fishing Gear
Here at Rusty Angler we believe in fishing giveaways and offering a chance at getting some free fishing gear.
Often, a savvy online shopper like those who visit this site can find fish specific fishing promotions on the giveaway page. That's because companies are constantly trying to bring in new customers.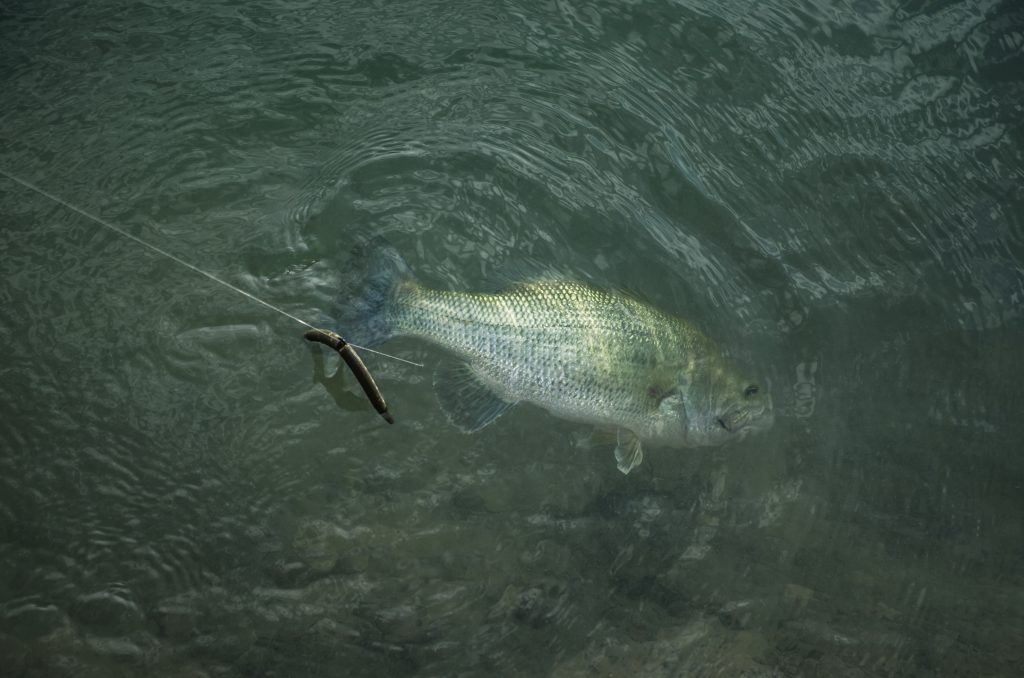 That means one of the best areas to look into is the world of fishing promotions. Companies have promos all the time, specifically to attract new buyers or to highlight new products, especially in the rapidly changing world of fishing gear.
With hundreds of lures, rigs, baits, and more, companies are in intense competition for every angler's dollar. Why is that important? Well, that means gear at either greatly reduced prices or even free.
On another note, a good fishing contest allows anglers to win free gear just by doing what is already being done – catching fish. Enter the contests. The worst thing that happens is nothing. The best is a ton of free fishing swag.
So grab some great gear and grab a great Rusty Angler deal. Those fish are out there and they sure aren't going to catch themselves. Fishing for smallmouth bass is an all year round event, and with more bass fishing tips, make sure to use them on your next vacation!
If you're looking for more fishing tips on fishing for smallmouth bass, check out Bassmaster on the subject, too!