Used Boats – Great Fishing and Savings
If you want to fish you need to go to the water. It's that simple. If you want to be on the water and move around you need a boat. The question is, what type of boats for fishing is going to work for the type of fish you want to catch?
Boats for fishing range in size and price and type, so running through the maze of options can be daunting to even the most avid recreational angler. In this article I will help you learn all you need to know to get the best boat for your fishing goals. The first question, and very important, is are you fishing salt water or fresh water?
Boats for fishing in salt water need to be corrosive resistant. For example, while aluminum boats are great for the lake, salt water will eat right through the hull if you're not careful. In addition, most salt water fishing is done in areas with larger waves and more severe weather possibilities. Your boat needs to handle that.
On the other hand, if you are going into a river system looking for bass, small aluminum fishing boats are going to be easier to maneuver. You don't want a Boston Whaler on the river.
Size and function
For salt water fishing or large lake use, a sport fishing boat is usually a solid choice. What makes sport fishing boats unique is their cockpit design. The pilot sits towards the prow and steers with a wheel.
These boats are usually fitted with a chair fixed to the deck to which a rod can be secured. In addition, other rods can be used by hand or mounted to brackets on the deck. These boats usually have long, high foredeck leading back to a rear cabin.
Some of the larger boats for fishing have full cabins and can be lived on for several days at a time. Almost all saltwater fishing boats are made in this style, allowing them to withstand the corrosive salt and also protect people and equipment.
Sport-fishers are used for angling on open water, often while travelling at speed. They have the size and endurance to withstand more severe weather. Finally, because this style of boat are all center console boats – the steering wheel is central to the boat – they are easier to control in severe weather.
If you are heading into deeper sea waters, trawler boats or motor yachts are essential. Capable of withstanding heavy seas and equipped with specialized rigging for deep sea fishing, these boats are necessary for those wanting to head into the wild.
If it floats, it works
For the weekend recreational boater and fisher, there are crossover boats that are good for fishing while also being family friendly for a weekend on the water. When you think of the traditional "speed boat," chances are you envision a wakeboard boat.
Small, fast, and maneuverable, these boats are made for speed. They are the favorite boat for waterskiing and wakeboarding, but that doesn't mean it won't work for fishing. Since they are usually smaller, a wakeboard boat is good for maneuvering through shallower areas in lakes. Just keep the engine throttle low.
Pontoon boats are more associated with partying on the lake than anything else. However, their flat bottoms, high water floatation, and wide, flat decks, are ideal for fishing in gentle waters. Plus, they usually have lots of storage areas for gear and refreshments.

Bowrider boats are the epitome of family boating. They have room for eight or more passengers. There's a main seating area and an additional forward seating space. That added space forward of the driver not only adds passenger space, it creates two distinct areas for socializing.
While catamarans are more associated with sailing, think the sleek, twin-hulled Olympic vessels, there are good catamaran power boats that are excellent for fishing. Generally used for larger, open water, catamarans try to combine the best of both worlds with the stability of twin hulls and the openness and central hub steering of traditional speed boats.

Closed Cabin to Open Bass – It's all about the fish
You can't have a fishing boat article without mentioning bass boats and cruiser boats. Flat hulled and low slung, bass boats are made for one purpose and one purpose only – catching fish.
If you're going to fish for large bass game fish and trophy bass, you need a bass boat. Period. For more information on what to look for in a bass boat, check out the Rusty Angler article on these.
Cruiser boats are smaller, closed cabin boats that allow for comfortable boating and storage of equipment as well as protection from the elements during extended fishing trips. These are common on the coasts, where weather can change suddenly.
Deck boats are also ideal for fishing. Take a bowrider, stretch out the seating area in front of the windshield, and you've got a deck boat. Modelled after bowriders, deck boats maintain their beam farther forward, rounding out or squaring off the bow for more versatile seating.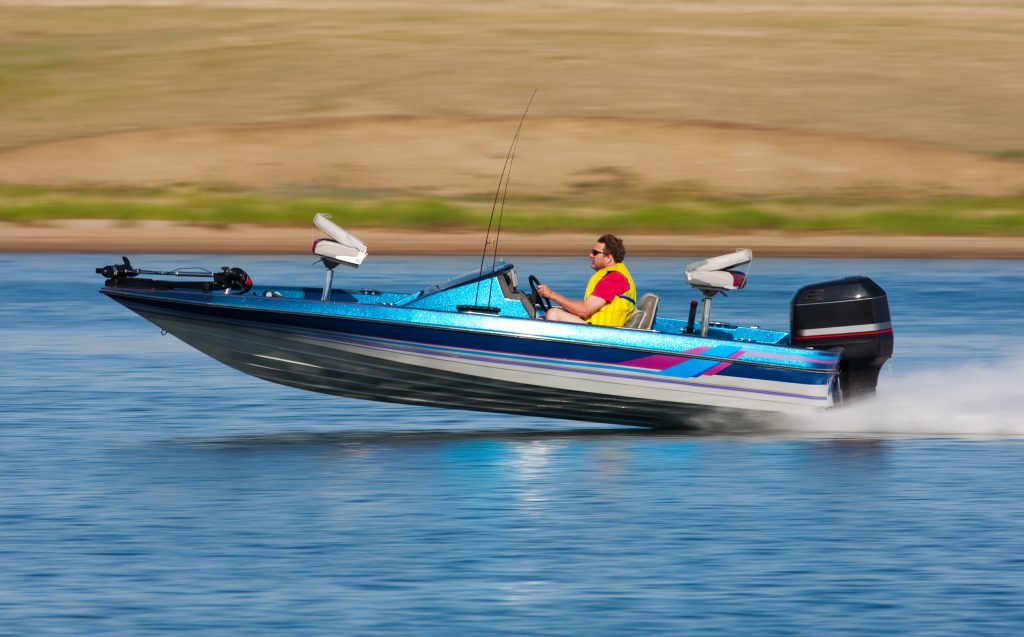 There are a wide variety of deck boat manufactures, so check out a few before buying. In addition, the best boat deck is dependent upon your goals. If fishing is first and foremost, get a deck that is easy to clean and has some grip for your feet.
Preowned boats for sale – used boats are still good boats for fishing
You may not have been her first, but that doesn't mean she isn't fun to drive. Used boats, like used cars, can be a great way to get what you want while saving significant amounts of money.
That being said, like a used car there are specific things to look out for. If you don't know boats, bet a professional who does to check for these areas: engine, hull damage, electrical systems, pumps, saturated foam, rot, stingers, hull joints, and cabin leaks.
The last bit of boat buying is simply getting the best price for the best boat. There are fishing sweepstakes and fishing promotions at sights like the Rusty Angler to help you find the best deals or even win a boat.
Also, with companies running fishing giveaways, there are time when you can get a boat that is loaded with extras and gear you might not otherwise find. A good fishing giveaway is a great way to find your dream boat, loaded up, at the best price. After all, what's better than free?
As always, get out, get fishing, and enjoy yourself.