Best Recommendations for Winter Fishing
It's that time of year again. Time for cold winds and warm coffee; white snow and ugly sweaters; and most of all, ice fishing. Nothing brings winter home like pulling a trophy trout out of the ice. It's time to gear up, get out, and don't forget the auger. Let's hit the ice and make sure to use the best ice fishing gear.
When it comes right down to it, there are only a few things needed to catch what's swimming under the ice:
A tent or hut to keep the wind out and the heat in
An auger to cut a hole in the ice
Jigging rods and reels
Jigs
Warm clothing
A sled to haul it all
However, few items are as useful and necessary as a five-gallon bucket and slush shovel.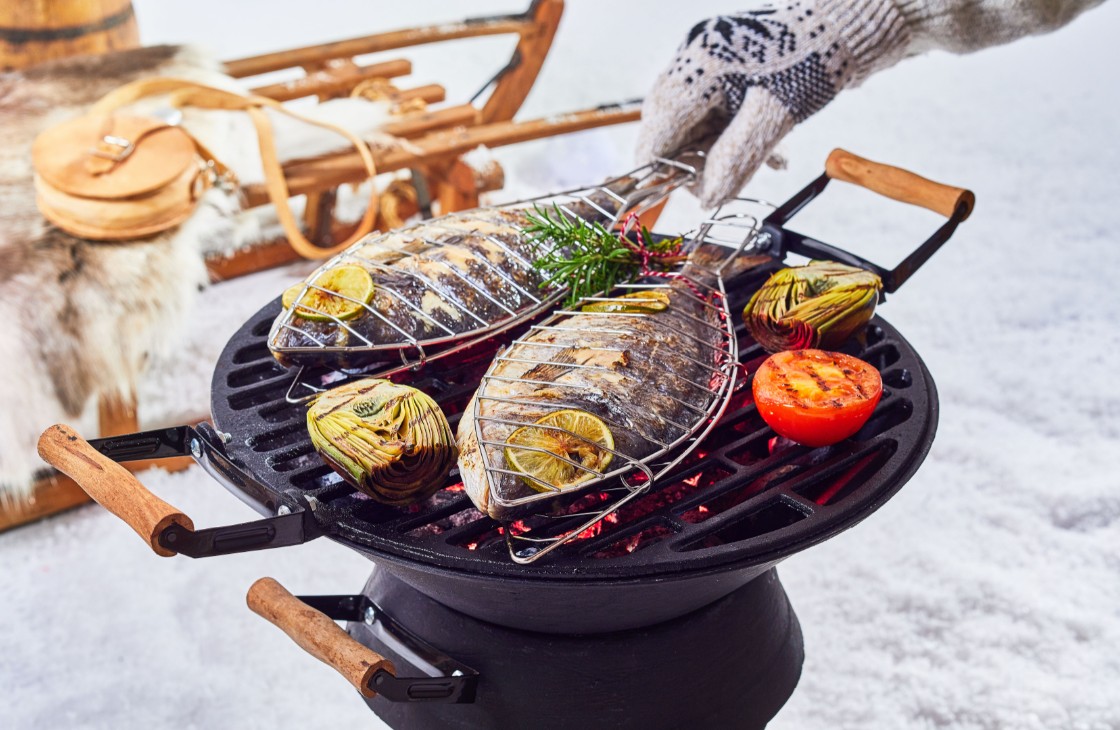 Five Gallons of Fun
An experienced ice fisher can talk at length about their favorite five-gallon bucket. Anyone else might wonder what is so great about a plastic bucket, but those in the know, well, know. A bucket carries supplies, stores gear, keeps bait fresh and more importantly, provides a seat for the angler. It's just one of the best ice fishing gear items you'll need to stay warm and store your winter catch.
Now any bucket might work, but when it comes down to it, there are buckets, and there are buckets. The Frabill Sit-N-Fish is insulated to keep bait fresh, sturdy enough for several seasons of use, and even has a padded seat, all for less than $25. Now that is luxury.
Along with the Frabill, ice anglers will need a good slush shovel or ice scoop. This is used to keep the hole clear and clean and to move the broken ice away from shelter. Remember, everything must be hauled out to the ice, so keep it light, slotted, and easy to pack. The Berkley Ice Scoop is a good option. At under $6 and metal, it will serve as a work tool for years.
Ice Fish Finders
Sure, ice fishing is basically cutting a hole in the ice and dropping a line. Still, it is a lot of work, especially if there are no fish in that area. Since the thick ice can keep an experienced angler from seeing what's occurring under the frozen lake, a good electronic finder is a necessity. Without this ice fishing gear, you just might end up going home with an empty bucket.
Like other winter gear, a fish finder needs to be portable, waterproof, and reliable.
On one end, there is the Markum LX-7 Ice Fishing Sonar System. Reliable, accurate, and well-reviewed, this 12-pound system will cost more than $700. Sure, it is one of the best, but that's a lot of weight to take out on the ice.
On the other end of the spectrum is the Garmin Striker 4 with Portable Kit. At a weight of only half-a-pound and a price under $200, this system is perfect for the novice looking for that extra edge on the ice.
For the experienced angler, the Vexilar FLX-28 Ice ProPack II Locator with Pro View Ice Ducer packs a punch. At a feathery one pound, this finder will easily transport and is made specifically for use on the ice. However, the $650 price tag can still be a bit daunting.
Thermal Gear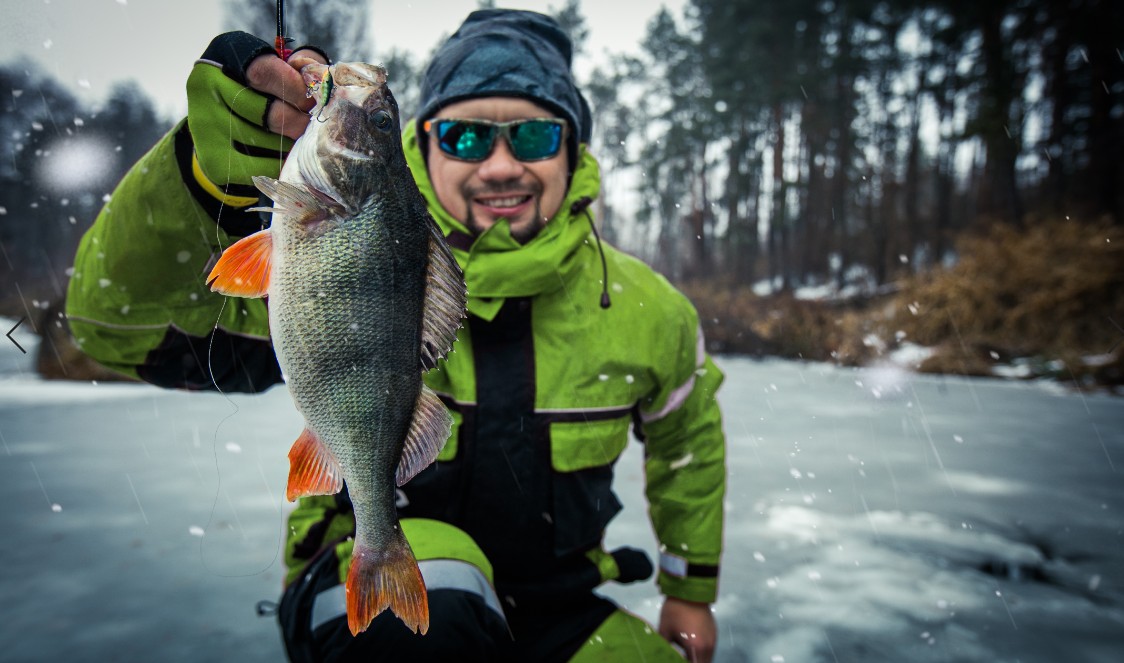 Fishing on the ice means it is freezing. That means the frozen fisherman needs quality thermal gear to ensure, not only a successful day of fishing, but health and happiness. Dressing in layers allows heat to remain close to the body while also allowing sweat and water vapors to evaporate.
When it comes to staying warm, there are two main rules: stay dry, and stay protected. Here are some of the best layering thermals out there:
Base layer: Start off with a proper base layer. Patagonia merino wool thermal underwear is expensive, but also some of the best under garments out there. The base layer is important if an angler wants to spend more than 30 minutes on the ice.
Jacket: A good fleece or wool jacket will help trap warm air in and allow water vapor to slip through and evaporate. Look to something like the Carhartt Crowley Jacket for a safe and secure mid layer.
Waterproof coveralls: Staying dry is vital on the ice. Water will not only pull heat away from the body, it can freeze and cause real damage to exposed skin. The Frabill Waterproof Insulated Jacket and Pant Rain Suit is a good option for keeping slush and water out and warmth in.
Socks: Moisture-wicking liner socks keep feet both warm and dry. A propolyene liner, like ScentLock's Thermal Boot Sock, placed underneath a heavy wool sock will keep feet happy and healthy.
Boots: When out on the ice, a good pair of waterproof boots are worth their weight in gold. Ask 100 people and get 100 answers on what to find in a cold-weather boot. The Muck Arctic Pro has a 2mm thermal foam underlay with an 8mm CR flex-foam bootie. This means warmth and dryness even at 60 below zero. A stretch-fit top line that keeps the cold from entering the boot, along with bob tracker outsoles for traction, make these ideal for a day on the ice.
Hat: More than 40% of the body's heat does out through the head. Make sure to cover that chimney top with a Simms Gore-Tex Exstream Hat. Fleece lined, Gor-Tex protected, waterproof and breathable, this is the hat for anyone out in the cold.
Tents
Even with the best protective clothing, being out on the ice means cold air and even colder wind and that means a tent or hut. Shelters range in size and style from simple one-man protective huts to large, heated, eight-person shelters.
Shelters should have wide bottoms to allow hauling in fish, and should be solidly built to stop winds and keep anglers protected. One of the best, even better at under $300, is the Eskimo FF949I Insulated Ice Shelter.
Made of Denier Ice fabric, fully insulated, and equipped with YKZ-zippered doors, this shelter has everything needed for a few friends heading to the ice. It even has self-tapping anchors making it easy to set up and take down. Plus, at under 35 pounds it won't strain muscles hauling it.
Cameras:
Finally, for those looking to add a little fun and spice to the trip, look no further than an ice fishing camera. Most fishing experts forget about this valuable ice fishing gear. But these portable cameras can be trolled in through the ice hole to give a fisheye's view of the world under the ice.
The Eyoyo Portable 9 inch LCD Monitor Fish Finder Camera is one of the best. Not only does it provide six hours of photos and videos, the manufacturer states the silver, fish-shaped camera blends in with the surroundings and won't scare off the native life being recorded.
We've got more great winter fishing tips for you!
At just under $200, complete with durable line, full equipment, and carrying case, it is one sure way to enhance any day out on the lake, frozen or otherwise. Now you know the best ice fishing gear to stay safe, warm and land the winter catch of a lifetime. Your turn–Go fish!